Become a member of the A-3 Skywarrior Association.
---
NEWS UPDATE




Click on images below for to view the full document.



The image on the right is the C.R.E.W. reunion announcement

with links to make hotel reservations under our group or click here.


Check back here for regular updates.
---
2. Some new photos have been added at PHOTO pg 14 (more added 8/12/21}.

3. A world class model builder has honored one of our own, Captain Tom Maxwell (USN retired), with a diorama of an event that was special to those involved. It was a "Fateful Day".

4. Click here to listen to "The Fighter Pilot Podcast", hosted by

Vincent Aiello

as he interviews author LCDR Rick Morgan, U.S. Navy (Retired) about non other than the A-3 Skywarrior. It includes a description of Capt. Maxwell's event featured in the above mentioned incident called "Fateful Day". Well worth the listen.
---

PROJECT REPAINT 138944
Click on the below image to see details


---

Would you like to donate memorabilia to a
dedicated A-3 Skywarrior display?
Click on the below image for the full details


---

Tragic Loss


1/22/2020
Mark Swisher and Bill Mego were returning home to Fort Worth after delivering A-3 parts to the USS Lexington and our A-3 there when a semi crossed the center lane and stuck their truck head on. They did not survive the crash. We will post funeral details here when they become available.
---
Links to funeral arrangements for A-3 association treasurer, Mark Swisher,
and A-3 association lifetime member, Bill Mego.
---

2019 A-3 Skywarrior reunion

Some of the crew attending the reunion gathered for a photo op in front of
Oakland Aviation Museum's A-3, 147666, prior to visiting the other exhibits
and enjoying a meal together later in the evening. More photos coming soon.

Attendee list (9-30-19)

Reunion photos
---
---
If you shop on Amazon, you can help the A-3 Skywarrior Association.
Amazon will donate a percentage of your qualified purchase to our organization with a charitable gift of money to help support us. All you do is click on the below link and log into "smile.amazon.com" with your normal Amazon login information. Then your purchases will benefit the A-3 Skywarrior Association. We encourage you to do this and tell your friends about it.

Thanks,
The A-3 Crew.
---
Miss the sights and sounds of an A-3?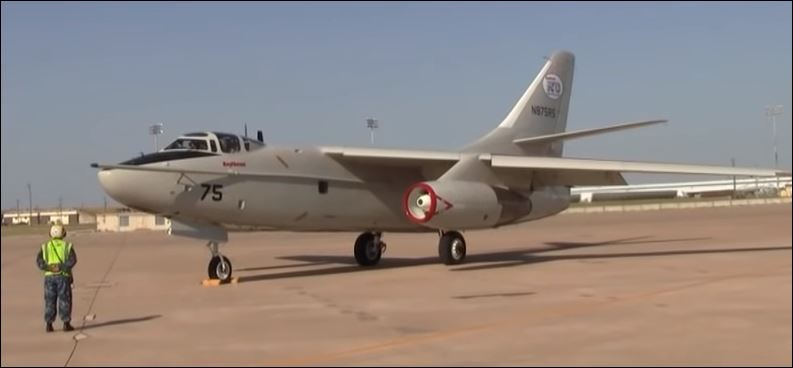 On 6-30-2011 after several days of consulting with Raytheon, NAVAIR, NMNA, and the A-3 Association. It was agreed to fly the jet to Pensacola for display. The A-3 Association deposited $15K with Raytheon and on the 29th, Ron Woltman and crew departed Van Nuys at 1945 CST arriving NAS Fort Worth at ~2215. We (A-3 Assoc) met Ron and crew at the aircraft and transported them to the hotel. Early the next morning we readied the jet for it's last flight and Ron and his crew took off for the last time at
9:10
CST Fort Worth, TX for Pensacola, FL. We'll miss the sound of those J-57's and we will miss the A-3 Skywarrior. Remember, we have 20 of these in museums so please donate to the A-3 Association so we can keep them all looking as good as Raytheon kept this one.
Click above to read the story.
---
Whidbey Memorial update....
---
Attached is a copy of the letter received from the Department of the Navy. They have accepted the gift of the Whidbey Memorial.

There are lots of thanks and congratulations that need to be passed around as this project was a huge effort on the part of many, many people. They include donors, volunteers, workers (retired and active duty), contractors who donated part or all of their time, the membership and board of the A-3 Assn., and the Whidbey Memorial Board and their staff and helpers, just to name a few.

I'm not sure how to make it known, but we also owe the command at NAS Whidbey a huge thanks for their part if making this happen and hope it adds to the heritage of NAS Whidbey.

It is indeed a proud and fitting memorial to those it honors, and the display should make a statement to those entering the base through that gate.

Personally, I just want to humbly say how exceptional this memorial is and again, acknowledge the tremendous effort it took to accomplish.

Well done, all!
President, A-3 Skywarrior Association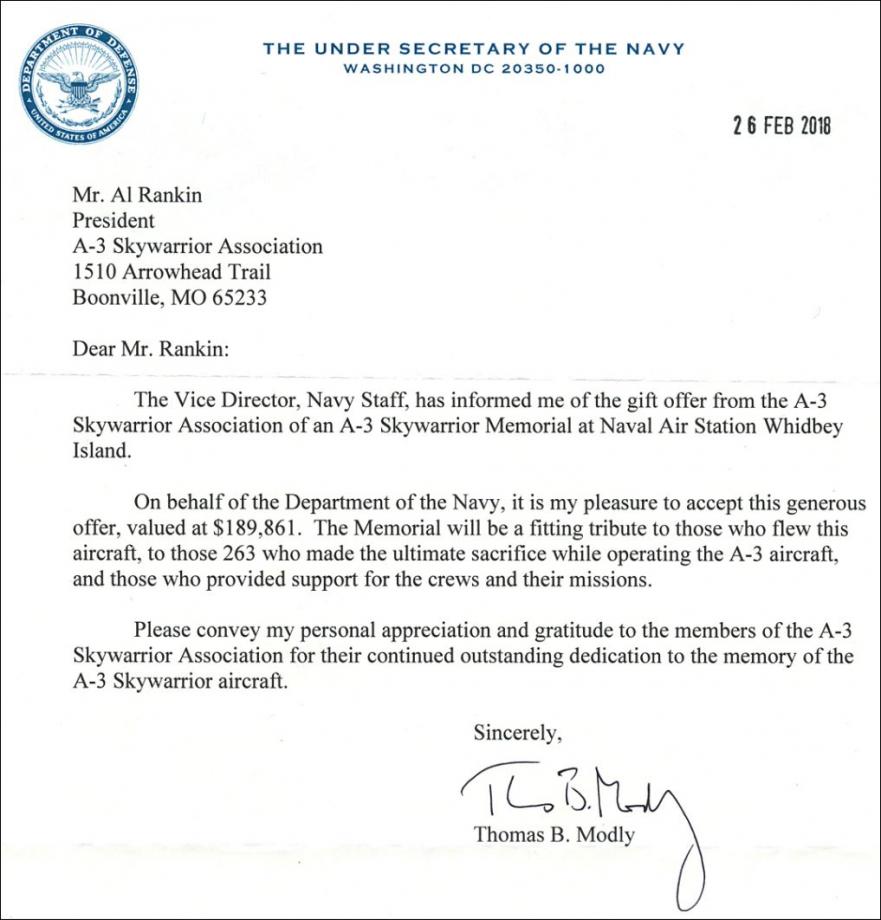 A-3 Skywarrior Whidbey Memorial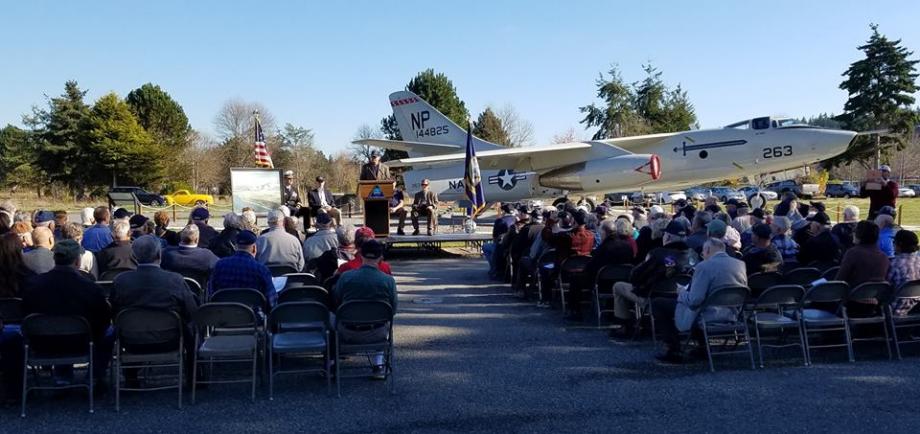 click here or on the picture
---
Sunset of the A-3 Skywarrior Program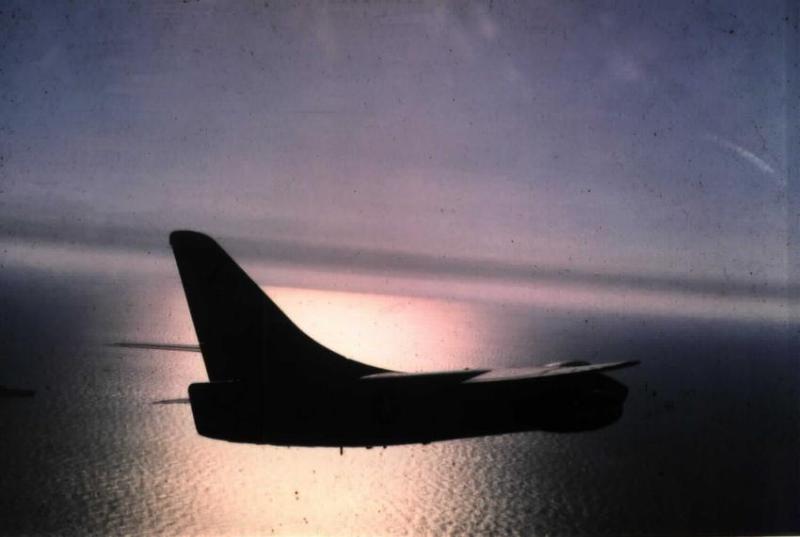 "A LITTLE BIT OF HISTORY"
OR
HOW THE A-3 SKYWARRIOR PROGRAM WAS TERMINATED

Mike Glenn was digging through his footlocker the other day and found this...The rational by NavAir for shutting down the A-3 Skywarrior fleet.
The Department of the Navy, Naval Air Systems Command
A-3 Sunset Plan cover letter
This link is the full 24 page proposal.
---
THE LAST A-3 WESTPAC

Dateline 7 February, 2012

TA-3B, 144867, began an historic journey today. As pictured, it was transferred to a crane barge from a pier at Naval Air Station North Island, CA. Due to high winds, loading aboard the USS Bonhomme Richard (LHD-6) was postponed till the 8th. It is then scheduled for departure to Ford Island, Pearl Harbor, HI. on monday the 13th where is will be restored and put on display at the Pacific Aviation Museum. Our own plane captain, AFCM, Ret, Mike Glenn will be accompanying her to insure a safe arrival.

Stay tuned for updates
SAN DIEGO (Feb. 8, 2012) A barge crane lifts a Navy A3 to the flight deck of amphibious assault ship USS Bonhomme Richard (LHD 6) at Naval Base San Diego. The aircraft will be transported to the Pacific Aviation Museum at Pearl Harbor. (U.S. Navy photo by Senior Chief Mass Communication Specialist Joe Kane/Released)





---

Dateline Feb. 23, 2012

As the crew man the rails while the Bonnie Dick (LHD 6) passes by the USS Arizona Memorial, 144867 arrives at Pearl Harbor on Tues. Feb. 21, 2012. It was off loaded the following day. Mike Glenn and company will begin some preliminary restoration work while they are there to help some of the Pacific Aviation Museum crews get up to speed.
Relocation of 146457
Click on any image to view the gallery
---
Linked below are some first person comments by an early Douglas employee and his experiences with the first A3-D Skywarriors. Thank you Phillip Purpura.
CLICK HERE
---
MUST READ
From Eyesore to Airport Pride
by AOC Delbert Mitchel, USN (Ret.)
For dedication photos