Make a tax deductable donation to the "Save a Whale" project for the Whidbey A-3 Memorial project.
www.a3skywarriorforwhidbey.org
May 2017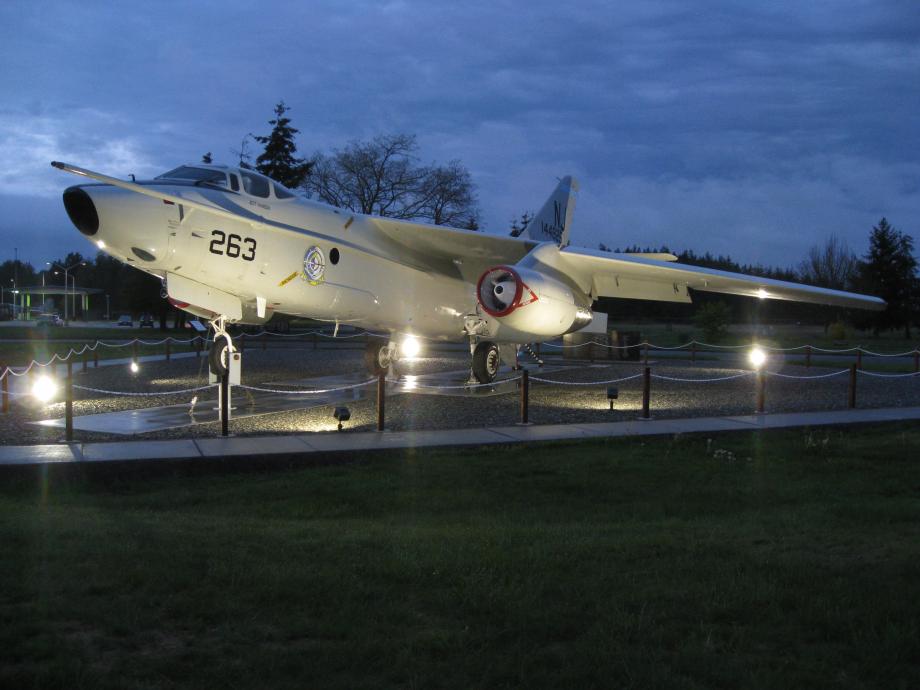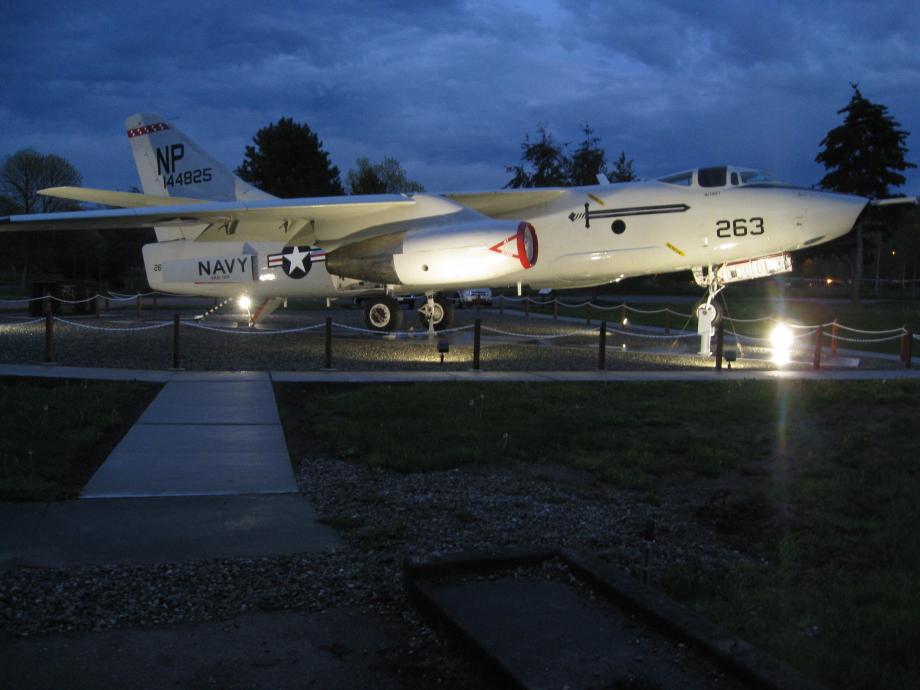 Nov. 2016

The engraved black granite monuments have been brought to
the site and put in place except for final epoxy bonding.

Note also that the perimeter sidewalk is down and it won't be long
before it is all finalized.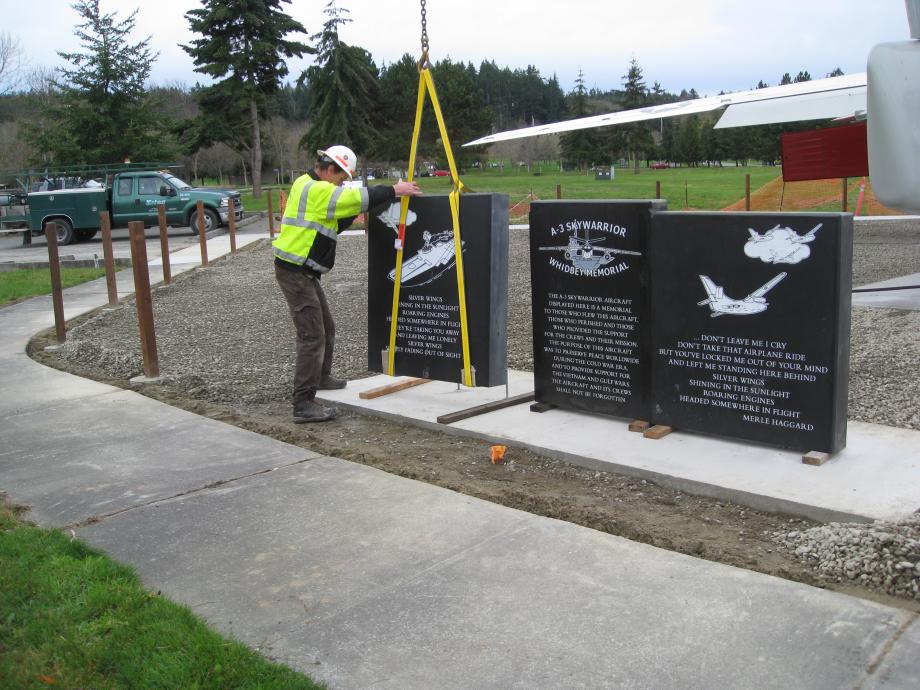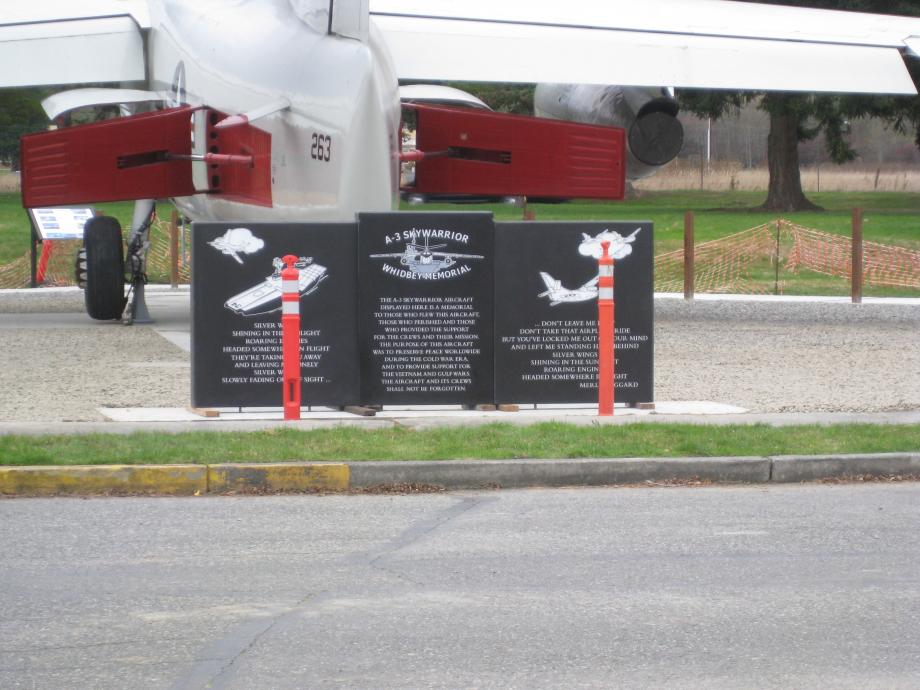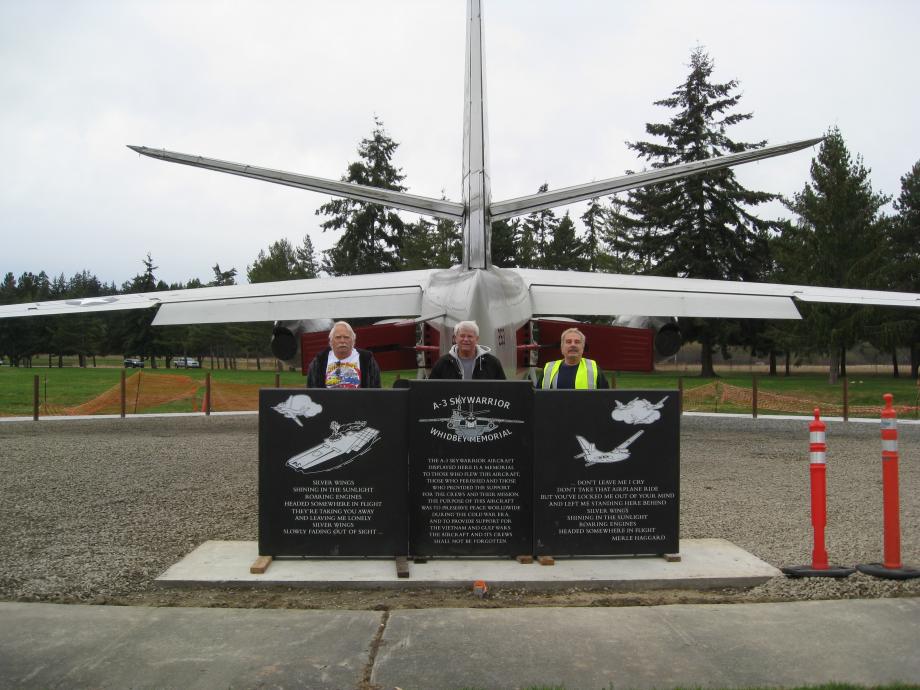 Aug. 22, 2016
Hoisted and mounted for display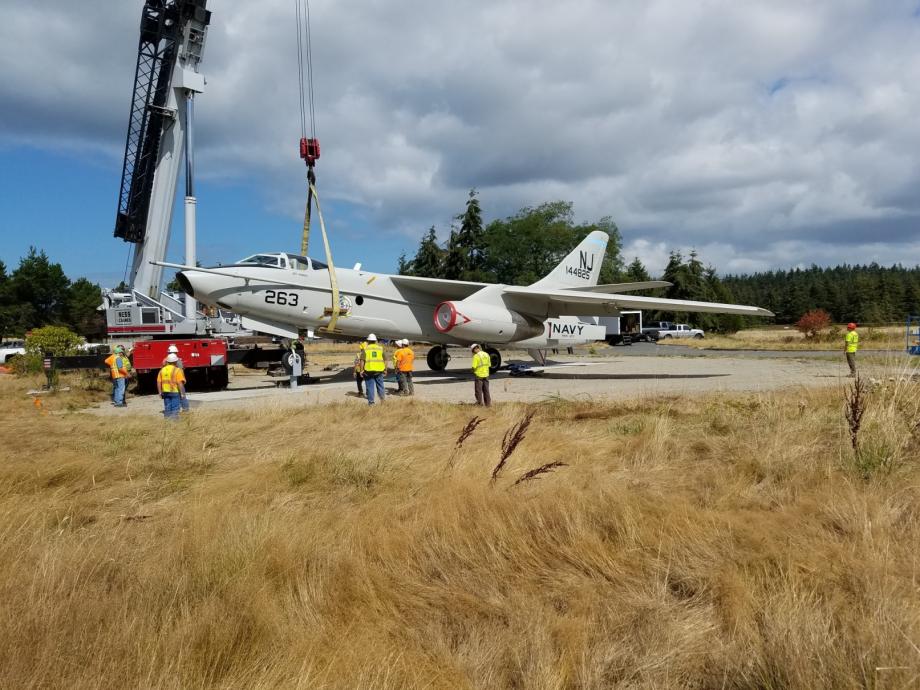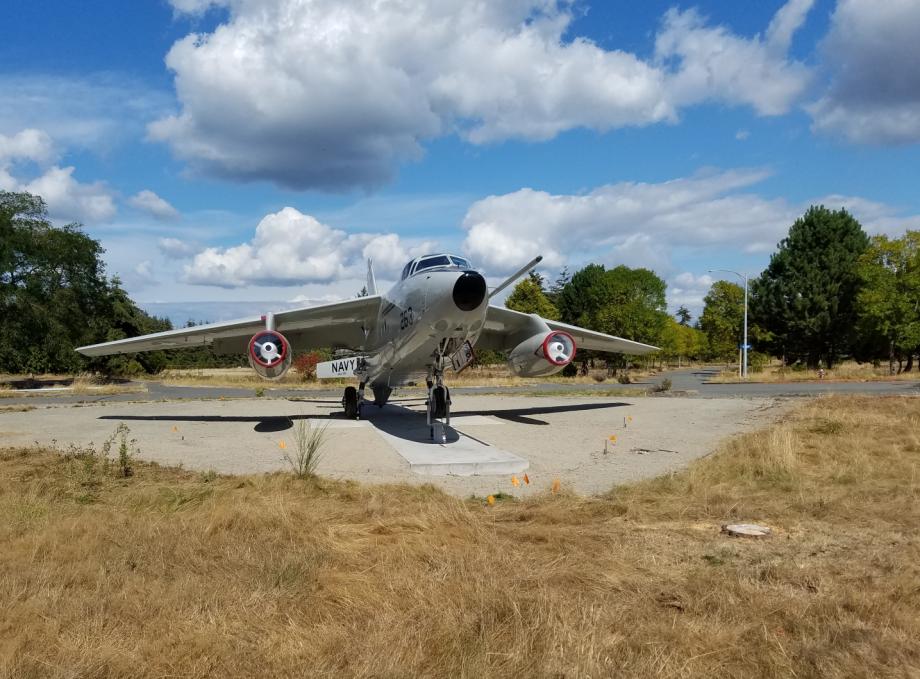 Video of the last ATM run


(There was a small hydraulic leak, but....)



Aug. 15, 2016 Progress
Towing into position on the mounting pad in preparation for craning next week. At that time it will be mounted in its final display configuration depicting an arrested landing on a carrier deck. Thank you Joe Hawkins for the photos.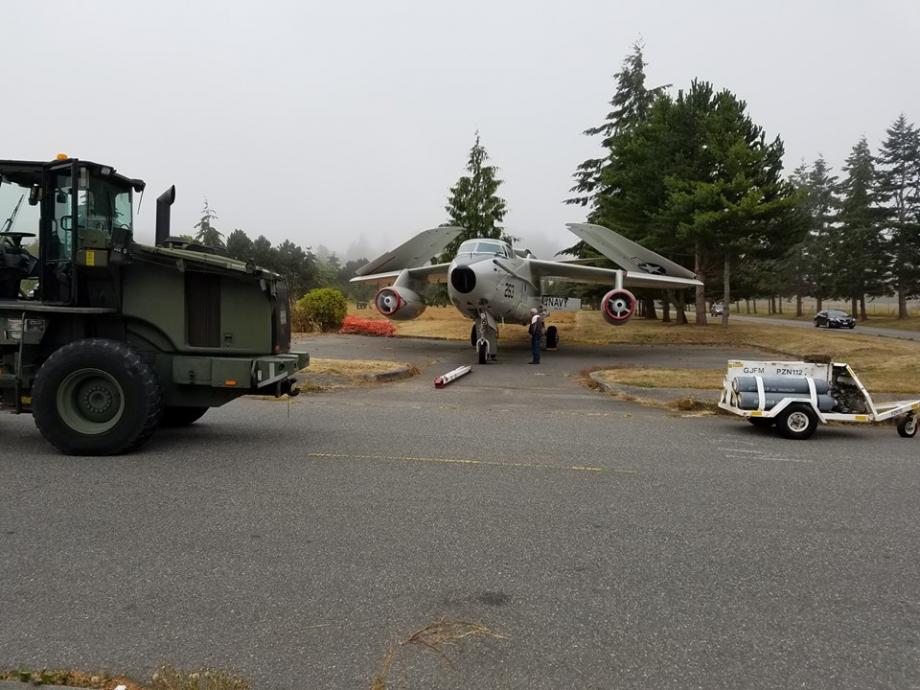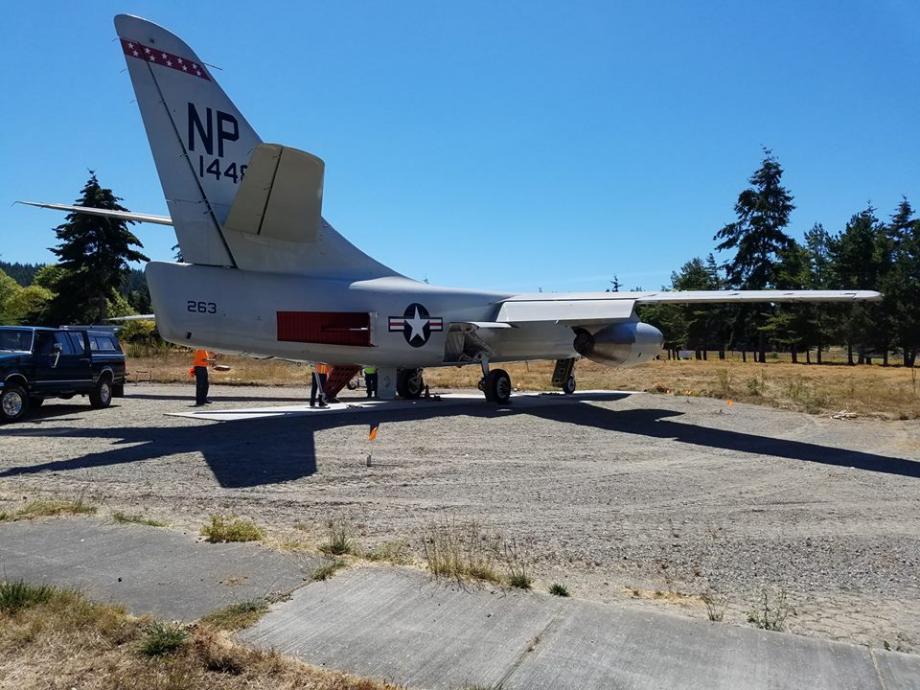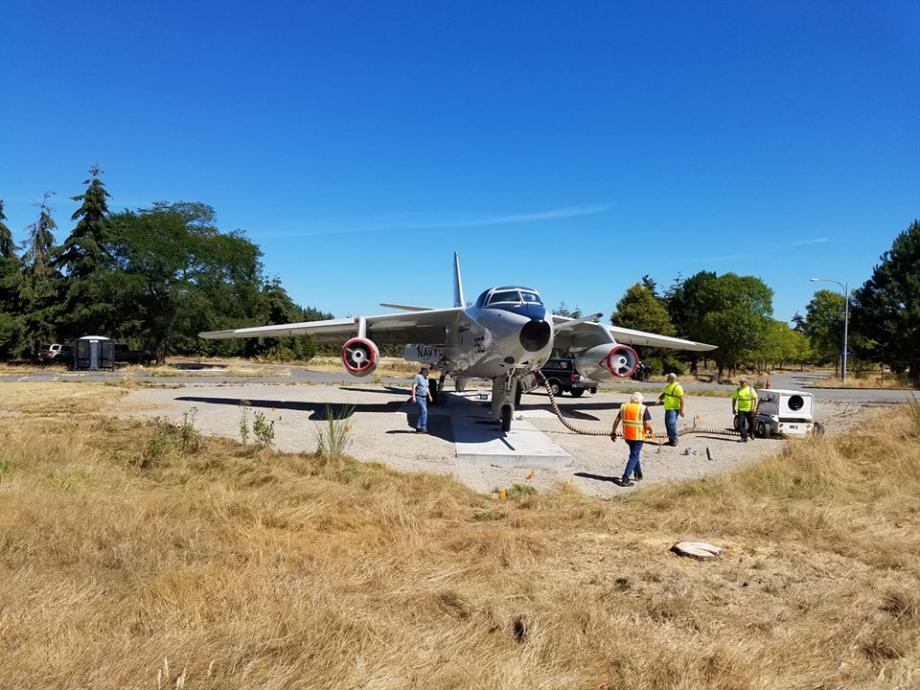 Nov. 2015 Progress


Concrete being poured. Looks like a good place to park a Whale!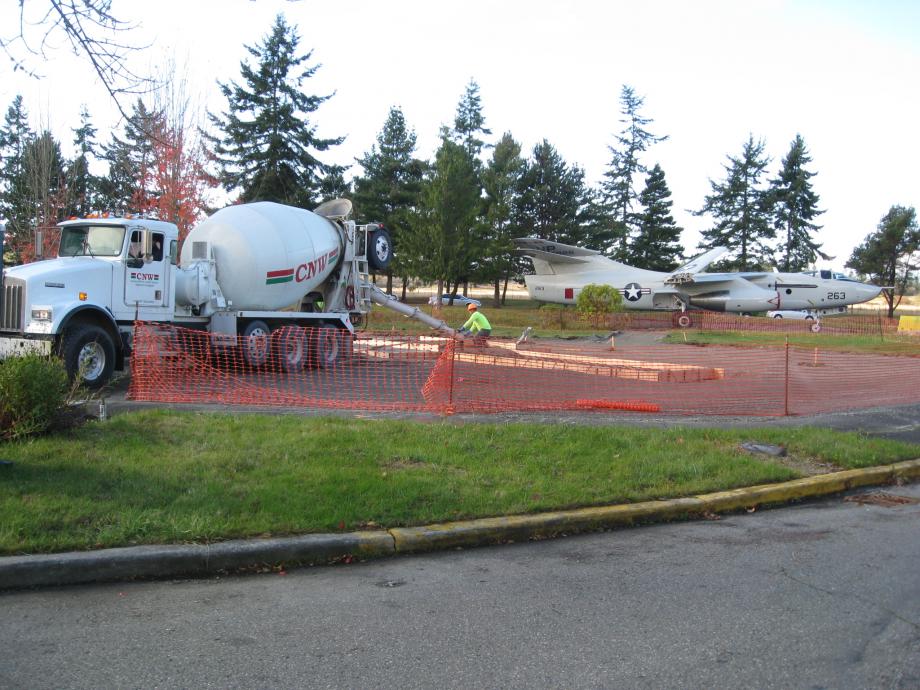 New location and memorial design.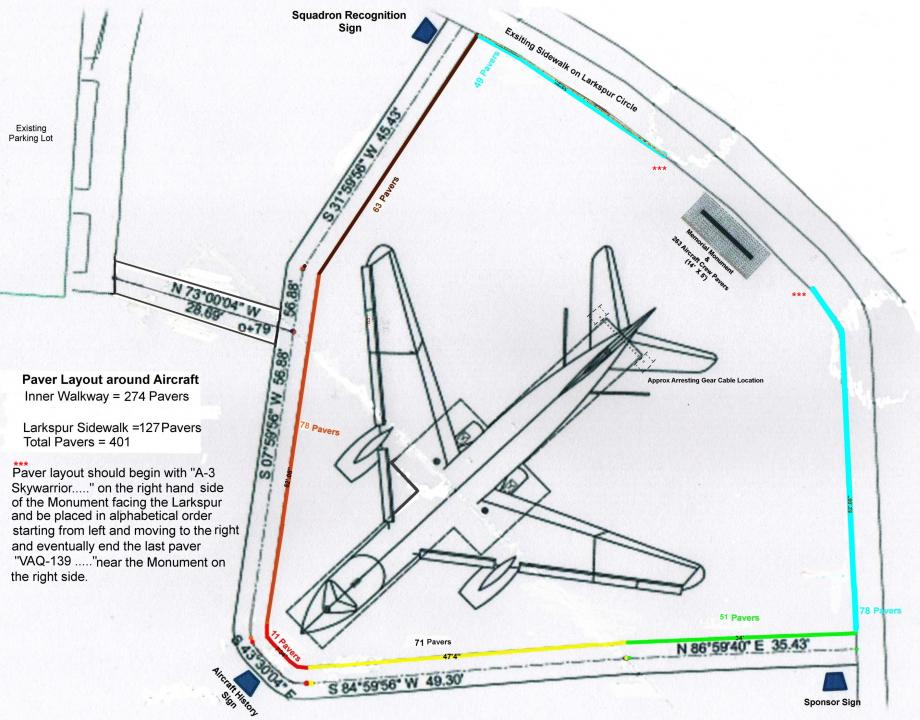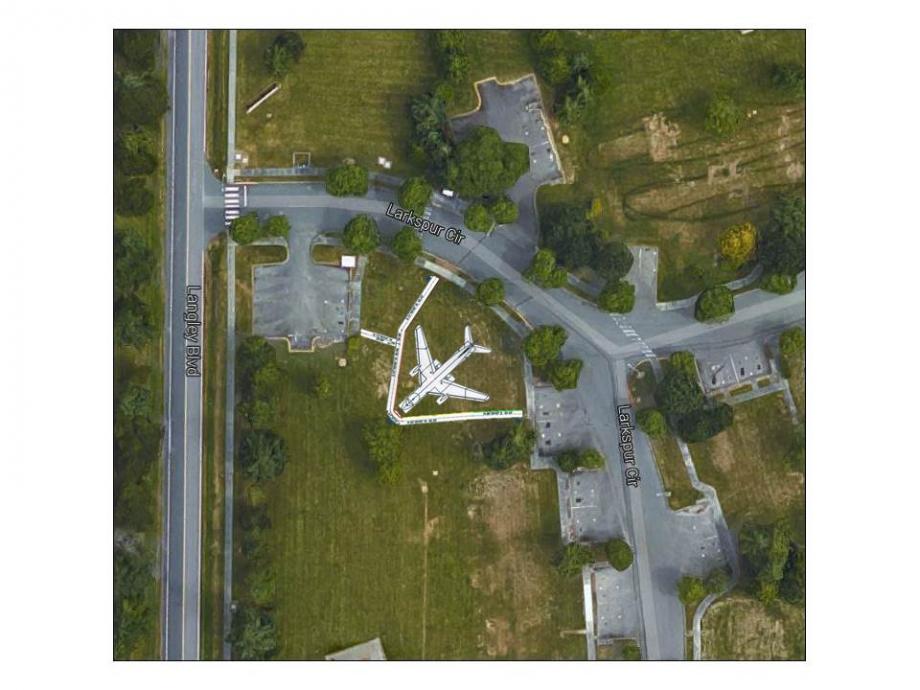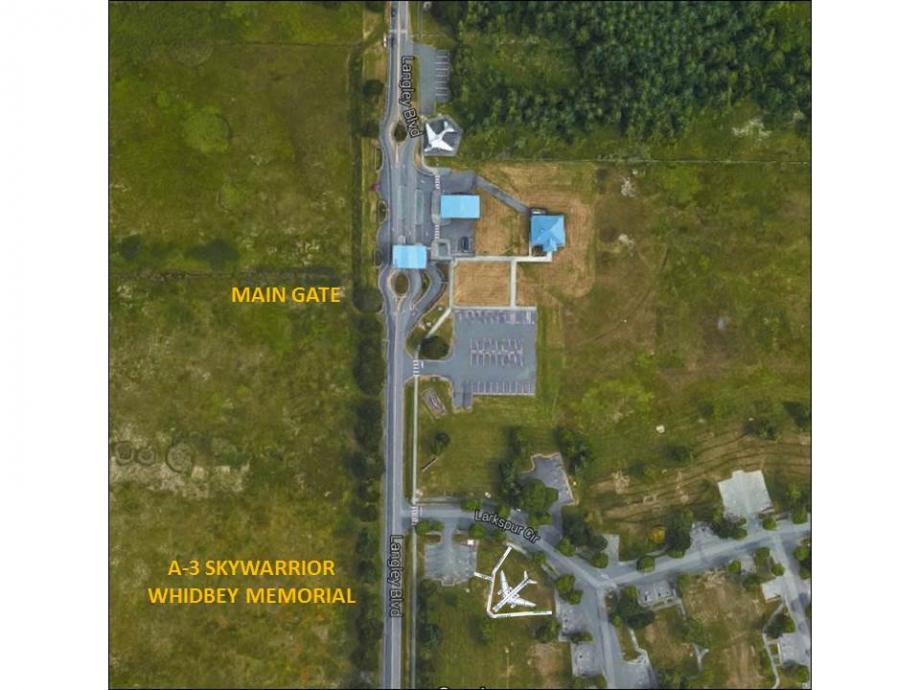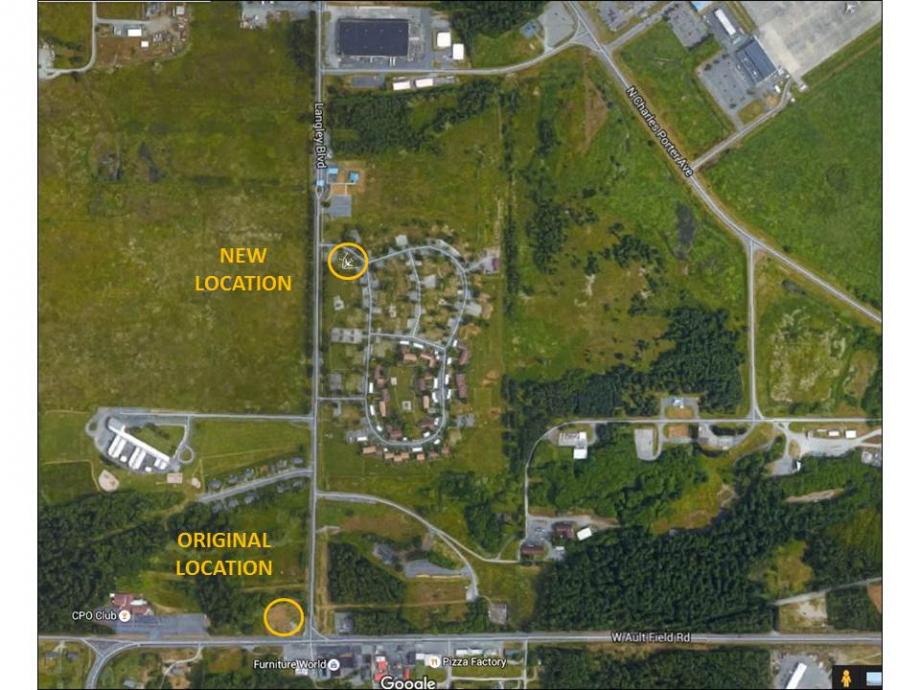 Photos of the move from the base to the memorial site are below.
Kindly provided and taken by Joe Hawkins
Sept. 29, 2015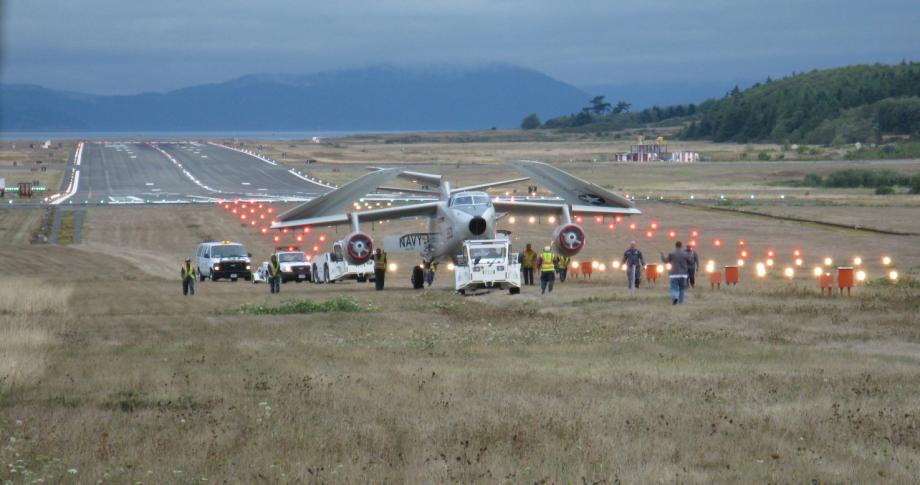 underway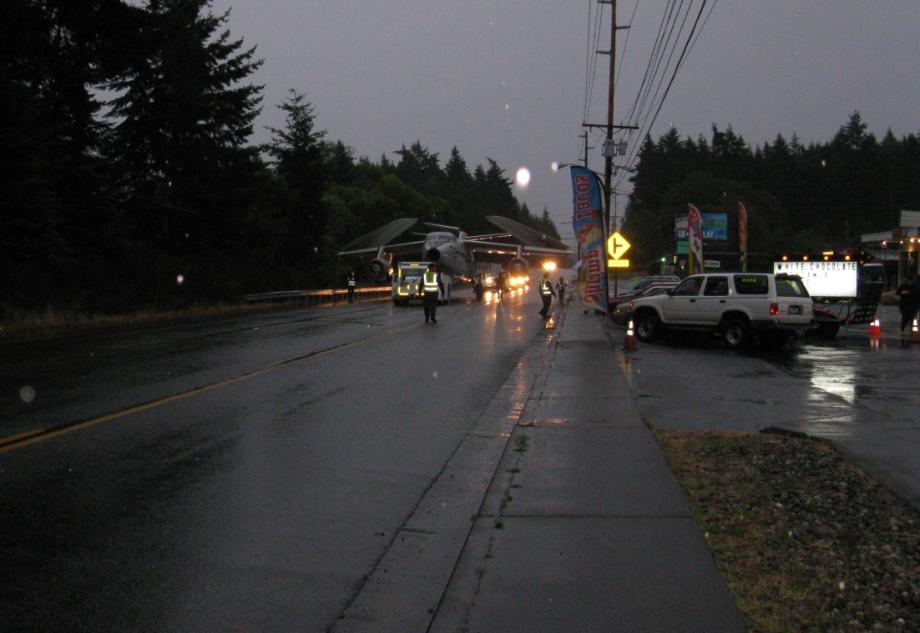 down Ault Field Rd.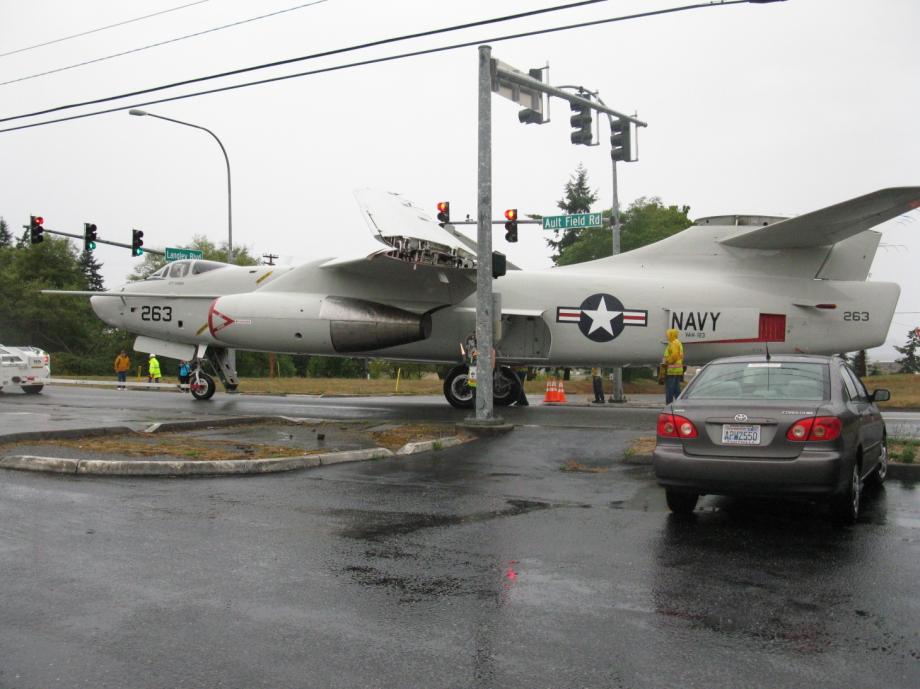 running a red light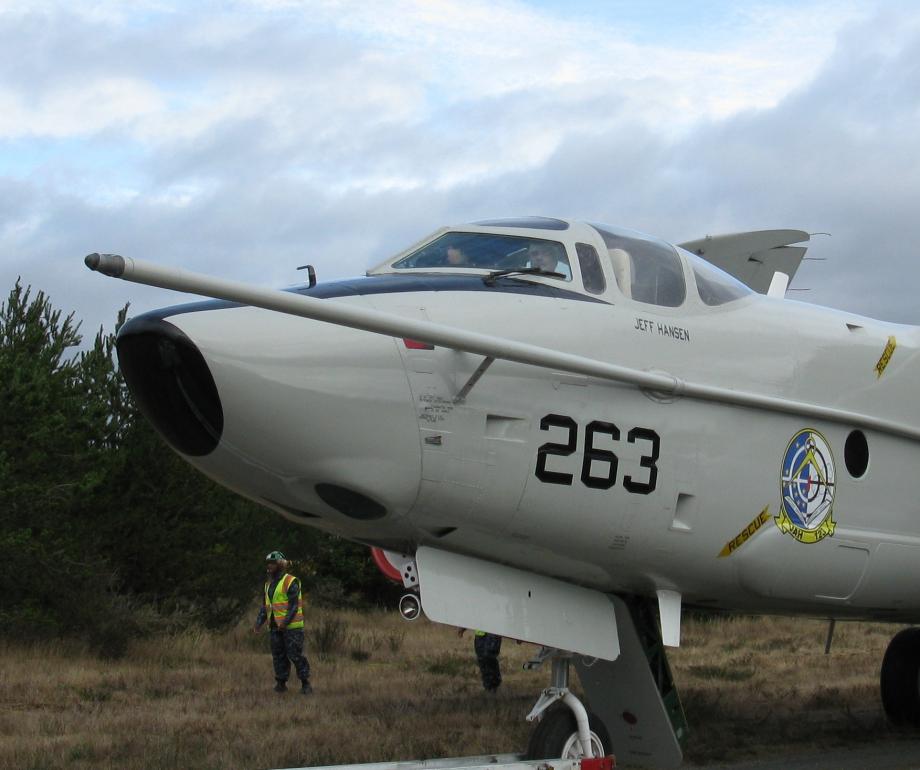 Jeff Hanson riding brakes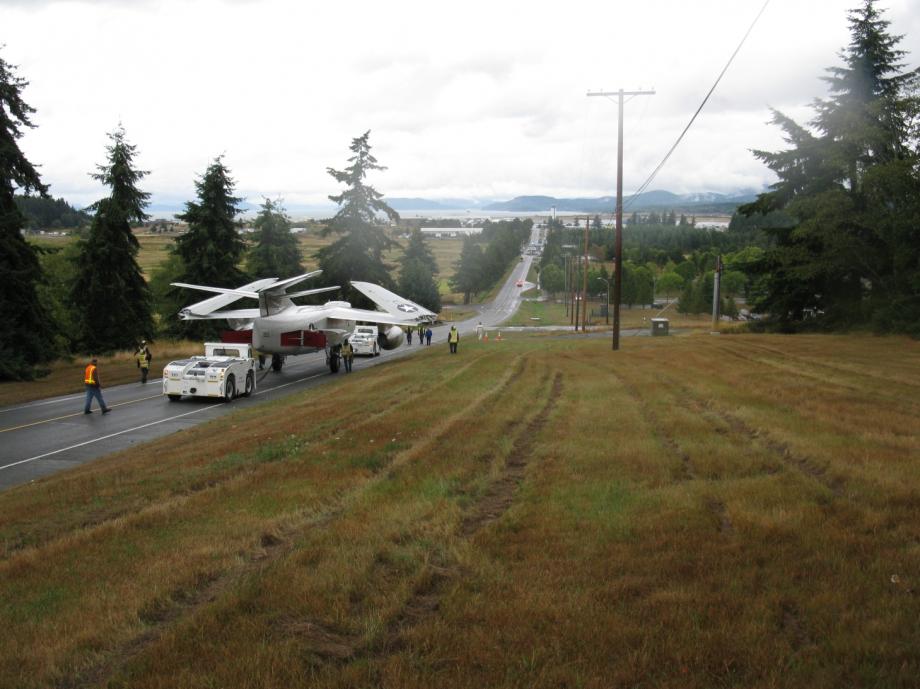 Easing down the hill on Langley Blvd. towards the gate.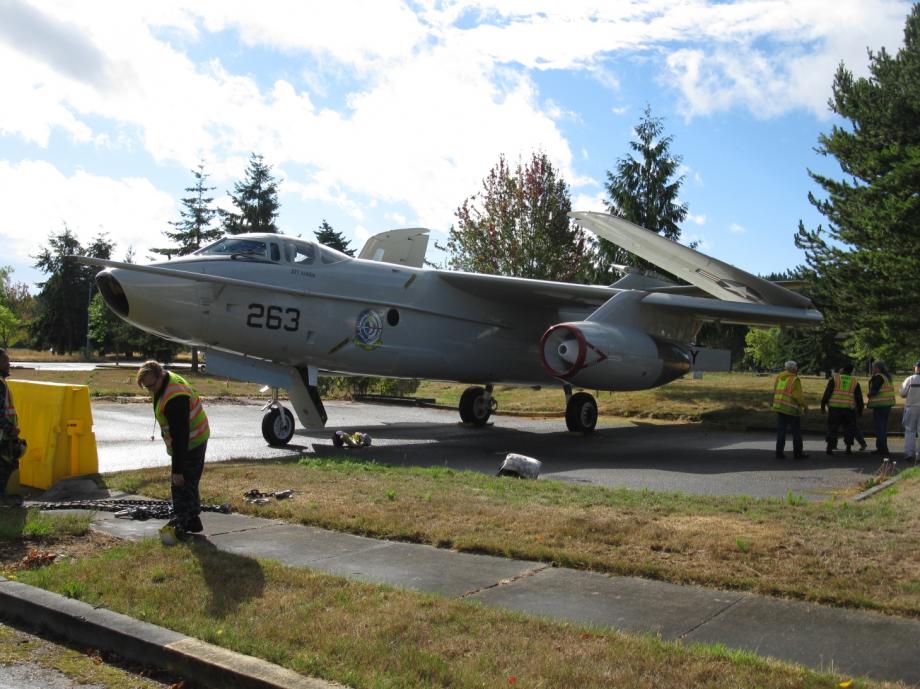 parked awaiting site preparation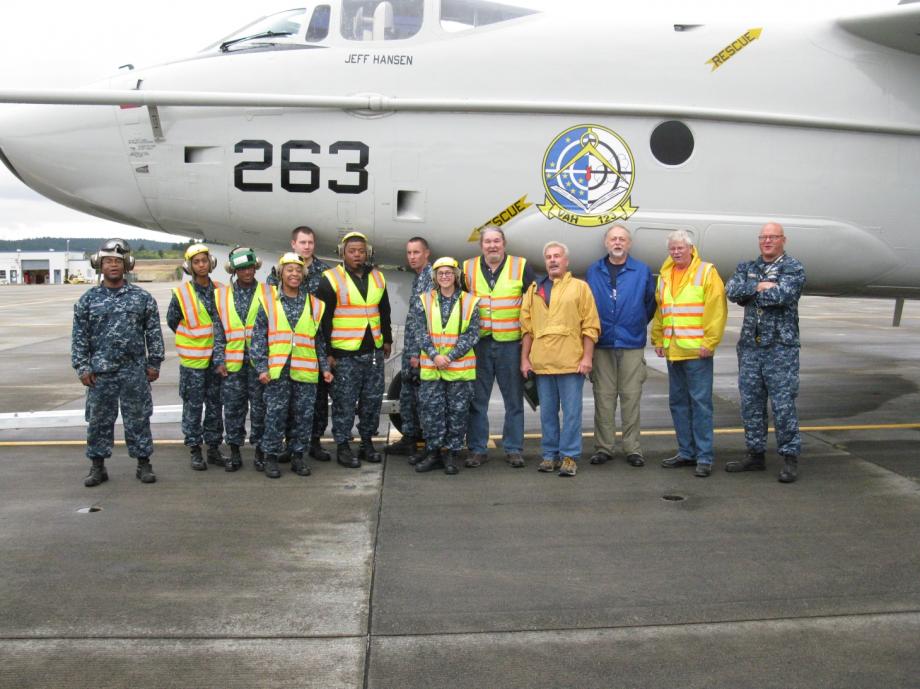 The move crew.
---
144825 as it appears after restoration completion.
Port side decked out in honor VAH-123 "Pros"
Starboard side decked out in honor of VAH-10 "Vikings"
---
"THE CULPRIT"

9/10/15 update: This site has been abandoned for the memorial.
Due to the cost of cleanup and further delays, a new site was offered
and accepted by the memorial committee as shown above.
Underground Storage Tank removal. 26 March 2013
---

April 29, 2011
She arrives at NAS Whidbey from Van Nuys
and is turned over from Raytheon to the Whidbey Memorial
March 2012 update
In anticipation of the VQ-2 deactivation ceremony, the A-3 is being used as a Skywarrior representative of that era of their proud history. The ceremony is set for:
17 May 2012
1000 hrs.
Hanger 6, NAS Whidbey Island
---
September 1, 2011
---
Jan 2011 update
Below are links to the Whidbey Times and some stories covering events up to the latest develpments.
NEW DEVELOPMENTS FOR DONATIONS
The A-3 Skywarrior Association is now approved and can be selected by both current and retired Boeing Employees from their Gift Matching Funds Program. If you or any other of the Museums have Boeing Employees in their membership, feel free to have them contact me and I will walk them through the procedures to claim any donations for 2010. They only have until 31 January to get the paperwork completed online.
Ault Field at NAS Whidbey
The yellow push pin indicates the location of the static display
shown below as depicted in an artist rendering.
The Whidbey Island A-3 Memorial project has designated NRA-3B 144825 as their 1st choice. This release is expected from Raytheon sometime around May 2010.
An artist rendition of the proposed display
Street view heading west on Ault Field Rd. at Langley Blvd.
intersection. Our interpretation of how the display might look.
More site photographs
Looking north at the display location lot.
Looking east from the CPO parking lot.
Green grassy area is the display site.
Bill Conley, Larry Irvin, Bill Burklow, Whidbey News Times photographer
Ralph Estes looking for rocks
Bill Burklow and Larry Irvin
First side up
Bill Burklow and Ralph Estes
Larry Irvin, Bill Burklow, and Bill Conley
Future display site