MISSION ACCOMPLISHED

BEFORE


AFTER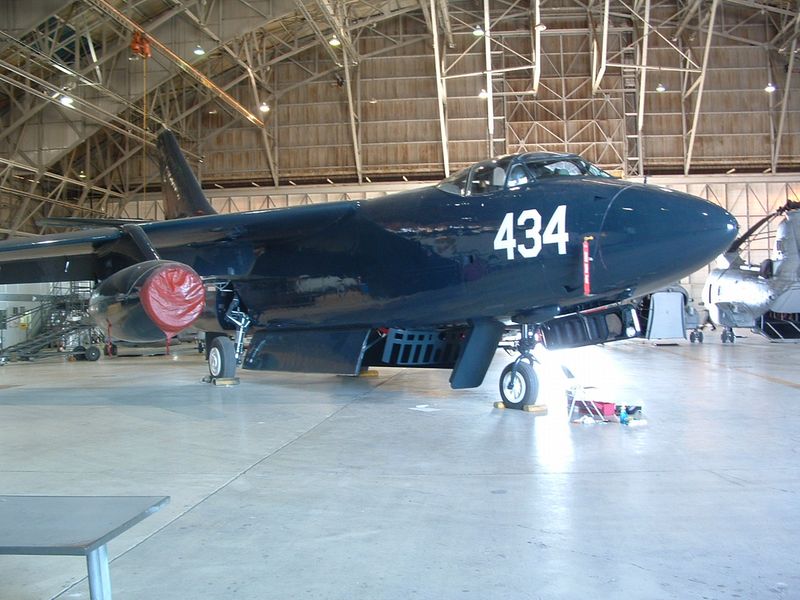 AIR FORCE FLIGHT TEST CENTER MUSEUM
Mike Glenn started the wheels turning to get 135434 moved from the outskirts of Edwards Air Force Base to the Flight Test Museum there on site.
The plan is to repaint it in the solid dark blue scheme of the early 50s which was the paint job on Oct. 28, 1952 when Douglas Aircraft completed their first flight test of the A-3 at Edward.
Since this aircraft is already at the location, cost will be much more managable and logistics less complicated to see this project to completion.
---
August 31, 2011
At the request of BGen Nolan, we are moving the dedication of A3D-1 135434 from 14 September to 14 October, 2011, to coincide with the 60th Anniversary Celebration of Edwards AFB.

The airplane will be displayed inside Building 1600, the big hangar and center of the event, and we will be on the official program to dedicate the airplane to the Museum.

This is more in line with the original plan of doing the dedication at the Bi-annual Edwards Airshow, which is not going to happen this year, but the 60th Anniversary Celebration will be in lieu of an airshow.

More information will be sent out as the event is finalized, but if you were making any plans for the 14 September event, you will have to change them.

Also, the same evening is the scheduled Gathering of Eagles dinner at the Antelope Valley Fairgrounds. This annual event is one of the big fund raisings for the First Flight Foundation, who has been very helpful to us during the restoration of the A3. The event costs $90 per head for dinner, and will be attended be a host of Astronauts, big time aviation and flight test personalities, and all of the Museum Foundation members. If you would like to attend you can make your reservations with Sharon Smith at 661 400-6639 or Sharon Cruthers at 661 277-8050. I would imagine that most of the Edwards alumni will attend being as they will be in town for the 60th Celebration.

Hope this gets to everyone in time to change any plans they have made to attend the dedication, but the new venue is very much what we had envisioned when we started this restoration.

Mike Glenn
A3 Restoration Lead
February 7-11, 2011
---
Work Report
From Del Mitchell: Feb. 2011
"AOC Clark Warren was a former BN on A-3's during his Navy career, and he flew on 135434 when he was assigned to VAH-9 at Sanford, FL. Chief Warren is a personal friend of mine, and he was assigned with MC Glenn, and the rest of the Edward's restoration crew when we were all in VP-65 at Pt. Mugu, CA. Chief Warren came down from Price, Utah and spent a long, hard week helping us on the A-3, and despite his 80 years, he is in great shape, and he enjoyed working with all of us. We even had the Edwards AFB Public Information Office do a story on him for their base newspaper. Andy Barbre, Bill Grant, and my twin brother Delwynn Mit chell are also in these pictures.
We finally got the cockpit canopy completed and sealed. Bill Grant made a beautiful patch for the starboard fuselage to repair and cover a corroded section just above the bomb bay door. He was also instrumental in repairing other areas of the fuselage requiring patchwork. A very valuable asset to our team. Delwynn Mitchell, Clark Warren, and Delbert Mitchell finished sanding old paint from underneath the fuselage from the nose to the tail, and will start on the underneath portion of the wings during the March session. Dennis Lundin and Ty Wilcox finished off the cockpit canopy, and sealed it. MC Mike Glenn continues to do a stellar job of supervision and leadership, and his knowledge and expertise on the A-3 is making this project go very smooth and on track. And, with MC's connections to the heirarchy at Edwards, our project continues to get much needed support not only from BG Nolan, but also from Col Schwarz, CO of Edwards AFB. The Edwards Museum Foundation is also pivotal in getting, and keeping our project on track."
---
January 10-14, 2011
Work Report
Ty and Dennis Wilcox have now completed installing the cockpit canopy with new or reuseable glass, Pete Nowicki and Art Hernandez are working on the cockpit gauges, and the panel should be installed for next months session. Bill Grant and Andy Barbre did some metalsmithing to repair corroded metal above the starboard bomb bay door, as well as patched holes on the starboard & port sides above the bomb bay doors. Les Wall and John Klepp sanded engine cowlings in preparation for washing in March, and painting in April. Delwynn Mitchell removed the aft radome, cleaned the area around it, and he cleaned out the gun turret area. Delbert Mitchell sanded the aft radome, and photographed the work. MC Mike Glenn continues to oversee the operation, as well as coordinate opportunities with Edwards personnel to wash and paint the aircraft. We also celebrated Mike's 70th birthday on 12 Jan at the Edwards Museum.
Additionally, I have forwarded our restoration efforts, with photos, to the news publications Pacific Flyer and FlyPast Magazines. I listed Mark as POC for any donations people may want to donate. The publications could not publish the donation form, but I listed Mark's address and email. The article and pictures should be out in Feb for both publications.
Del Mitchell
AOC (Ret)
---
Here are November notes from Del Mitchell:
"MC Glenn is on a very well deserved vacation, so I thought I would send some photos of our Nov 1-5th restoration period. A lot was accomplished, starting with the removal, cleaning, and re-hanging of the port engine. Replacement front engine cowling and oil coolers were attached. Sheet metal work was done to the outboard side of the port engine nacelle where there was torn metal. Work was also accomplished on the port, aft sextant window, as it was installed on 4 Nov. Sanding of the starboard fuselage, and the inboard starboard engine cowlings. The JATO hooks were also lubricated, and after much persuasion, were returned to their flush positions. Hammers and WD-40 work wonders."
Here are December notes from Mike Glenn:
"Both engines have been dropped, cleaned up, nacelles repaired as needed, and doors replaced as needed. Both reinstalled and completed, ready for paint. Left engine had a large rock jammed into the compressor, once we removed it the compressor actually turns. All windows are fitted and drilled, new NAV windshield is in final, three remaining are drilled and countersunk need to install screws into them and seal. Upper hatch reworked and slides and locks great. We can actually close the cockpit to keep weather out. Cockpit is in work, center console looks good. Raytheon popped for some instruments removed from cut up airplanes, so instrument panel is about 75% filled and will be installed by January or February. Helen Watson requested the Edwards Museum for a year end status report, so I put together a book with pictures of the original items and the reworked progress. Also showed her the anticipated paint scheme and Total Aircraft Services (TAS) drawings of the layout. And the articles in the Naval Aviation Centennial Newsletter and the Edwards Museum Foundation Newsletter. I included a cover letter to her describing the work progress, then asked for us as the A3 Association to be allowed to review the aircraft remaining in Davis-Monthan, and to be her "Staff Experts" on the A-3's. I said we would survey the condition of each airplane and furnish a synopsis of each one so she would know the status when Museums are asking. I still need engine instruments, and if there is a chance that anything there (DM AFB) still has an ASB cockpit suite in it, it should go right into 434. We might ask for those things if there are some being as the Edwards Museum now want to display the aircraft using side steps up and platforms alongside the cockpit so people can look inside once it is inside displayed."
---
OCTOBER 2010
Had a good work week at Edwards, had Mike and five guys all week, three others in and out. Still a great and dedicated work group.
We did some miscellaneous stuff including completing the ATM installation so it looks good. ATM's were in last month but exit ducts needed additional work to make external alignment.
Cockpit items went in, instrument panel started building up with available instruments on hand, will get more from Raytheon next week.
After many starts and stops, finally got a set of engine adapters that would work to attach the engine to an installation and removal stand. Not perfect, but they work. USAF engine shop loaned us a stand.
Removed the RH engine, removed the nose cowl, cleaned out the engine compressor, replaced the damaged nose cowl with one from Mojave warehouse, and installed oil cooler lines and cooler, installed cooler fairing. Replaced all four engine cowling doors with Mojave ones, and reinstalled the engine. Looks flyable.
Removed LH engine on Friday AM. It will get a new nose cowl also, new oil cooler fairing, and the sheet metal rip in the upper cowl repaired on next event currently scheduled for 1 - 5 November.
---
135434 location since 1970
Edwards Air Force Base, CA
(with 135434 loaction)
~ 3 mile tow route to restoration hangar
Marine detachment hangar bldg #1210 restoration site. At last, work is underway.
A very happy group of ex-whalers.
For a description of the latest events Feb. 4 through Feb. 19, 2010
---
Feb. 1, 2010
The below pictures show a group of volunteers under the direction of Master Chief Mike Glenn, working on 135434 in order to prepare the aircraft to be towed to a hangar where it will be washed, repaired, repainted to its original Midnight Blue color, and then eventually displayed in the new Edwards Air Force Base Museum. The first picture is of the crew who worked on this project from 25 January 2010 to 29 January.
Photos by Delbert Mitchell
Work Detail
left to right,
Kneeling are: AFCM (Ret) Mike Glenn, and AMEC (Ret)Pete Nowicki.
Standing are: AMSC (Ret) Andy Barbre, AD1(Ret) Ty Wilcox, AOC(Ret) Delbert Mitchell, AMSC(Ret) Bill Grant, and AO1(Ret) Delwynn Mitchell
---
0800 - Jan. 15, 2010
A REPORT FROM MIKE GLENN ON THE GROUND AT EDWARDS
I got a call Monday from Ron Woltman, the Raytheon pilot who is coordinating the A3's. He received an email from Ken Ballard at NAVAIR telling him to give the "Edwards Project" any parts and tools they need. As far as Ron is concerned, this is sufficient to go forward with us picking up the parts. Caution is still that all parts have to be carefully accounted for including any replaced on the airframe, and we have agreed to that.
He also advised that they were doing the final prep for cutting up 144841 at Mojave, Raytheon had guys there defueling and removing selected parts, but everything else on the airplane is fair game for us.
So I went to Mojave on Wednesday, took my tools, and removed all of the actuators missing from 135434, the tailhook dashpot gauge, the radome locks, and completely forgot to get the missing anti-collision lights. Hopefully there will be some in the Mojave warehouse, or we will have to talk to Raytheon.
Ron will not be back in SoCal until next week, then he will schedule a date for us to get the parts in the warehouse in Mojave. I am assuming that we can get the pickup resolved during the week of 18-22 Jan, remember that Monday is a holiday, and then I figure that we can start serious work on week of 25 January.
It may be that we may just be picking up parts on that Monday, or at least starting to get the tires and wheels organized for installation on the airplane. We need to build up the mains, nose wheel and tire I have looks good, will most likely hold air.
I discussed this schedule with Andy Barbre, he cant make it early on 25th from Orange County, so I am going to ask him to stop by Raytheon at Van Nuys and pick up the jackpads, MLG axle nut socket, and strut locks, and bring to Edwards. He will arrive later in the day that Monday.
Please advise if you can make it to Edwards to assist with the initial movement of the airplane from existing location , across airfield, across washrack (hopefully), and into hangar 1210. I am estimating this event to take five working days, could be shorter but for first event we need to be careful. If we dont start parts pickup until then for whatever reason, then we might bleed longer.
Along with this I need to ask everyone for their personal information for billeting. We are trying to get free lodging in the High Desert Inn (USAF version of Navy Lodge) or in BEQ. They have asked the Museum Foundation to foot the first $500 of billeting costs if we cant get the free decision in time. I should know more tomorrow. Normal Inn fee is $39 per night.
I guess for the information I would need Name, SSN, home address and phone number. Then as this proceeds I can pre-register anyone that can come out to help. Please email info or if you dont want all of that info floating around the ether, call and leave an audix.
So here we go. If you can make it out on the 25th of January please let me know. Or give me your alternative availability if known.
Thanks
Mike Glenn
661 242-8226 - H
661 859-8915 - C
---
11-19-09 some more pictures