MISSION ACCOMPLISHED
Well this project is a wrap and was done with huge support from the community and businesses around Castle and the Atwater area. Our small group raised $9,300 which pales in comparison to our Whidbey project (over $170,000) and Fort Worth ($81,000) but still the money helped keep the project moving along and on track and was sorely needed to make things happen. Thank you all for stepping up to the plate and turning over your hard earned dollars to support a static display...and wow, what a great job was done by the volunteers from the Castle Air Museum to create this display.
Mark Swisher, A-3 Skywarrior Assn, treasurer
---
RA-3B 144843 started out with VAP-62 and sometime during the Vietnam war was transferred to VAP-61. Her sister ships 842 and 844 were both lost over there but 843 side # 913 made it home. Instead of going to the boneyard she ended up as a test bird with Raytheon and Hughes and even flew with ARMY markings. Her last flight was 11/23/1998 when she was flown into Mojave airport. Then the restoration plans started to take shape in 2009 where volunteers supporting Castle made it happen by removing engines, wings, and tails and transporting the pieces across the desert to Atwater where she was reassembled and painted.
Thank you all once again for your help. This display will stand for decades to come and will help tell the story of carrier based photo reconnaissance and will be a reminder of the brave personnel who manned the Skywarrior and went into harms way to defend our freedoms.
---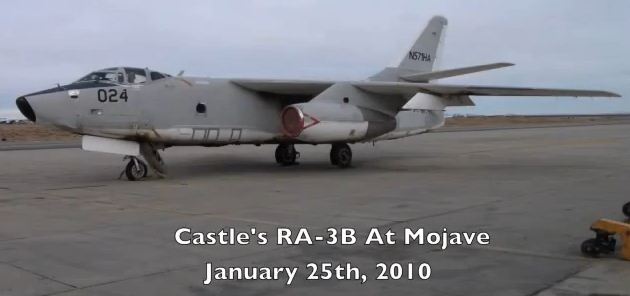 A 23 minutes video of the restoration of 144843
by many volunteers at Castle.
http://www.youtube.com/watch?v=Bmeq5d0brQw
---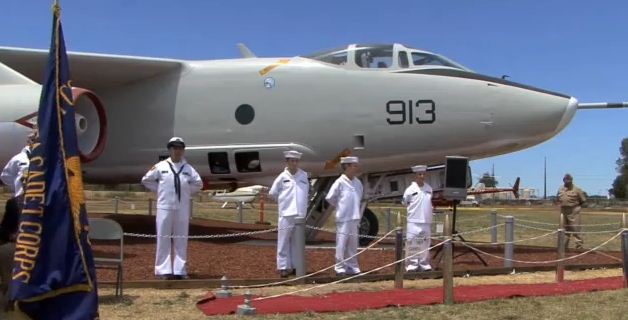 A 40 minute video of the dedication of RA-3B 144843
during open cockpit day, May 26, 2013

http://www.youtube.com/watch?v=RSI8gR4_oVs
---
DEDICATION DAY, MAY 26, 2013
---
Rollout of RA-3B 144843 is now May 8th, 2013, see message below from Mr. Joe Pruzzo. Dedication is still slated for May 26th during Castle Air Museum open cockpit day. http://www.castleairmuseum.org/
Please pass this on to other Whalers and VAPPERS who are not members of the A-3 Skywarrior Association but may still want to see one of their restored Whales go on display. Castle Air museum volunteers did an outstanding job of restoring this former VAP-62 and VAP-61 RA-3B Skywarrior which was made possible in part due to the donations from those of you on the To... line.
---
The A-3 Association has been working with Castle Air Museum for the last three years and we raised $9,300 to move and restore 144843. The RA-3B will be displayed as a VAP-61 bird in honor of that squadron which suffered the highest A-3 combat losses due to enemy fire. On May 26th 2013 the Castle Air Museum is having an open cockpit day and will be dedicating the 56th bird on display at Castle, the A-3 Skywarrior.
March 2013
She is nearing completion with some paint touch ups and the placement of her insignia and unit
markings. We are still planning to have her out by the museum's upcoming Open Cockpit Day festivities on Sunday, May 26 and officially dedicate her then. I will take some photos of the concrete pads at her future display site and get them to you today as well. Thank you Mark and to all of the "Whalers" and "Vappers" out there who made this happen!"

Jan 2013
That new refueling probe from Key West now installed.
September 2012
Repaint underway!!
July 2012

Update….Wow, I missed a very important part of the restoration piece that Joe reminded me of.
Mike Glenn our restoration lead has been closely coordinating with NAVSUP, NNAM, and Key West authorities to secure the fuel probe for 144843, We have a tanker KA-3B 147648 that was flown into Key West back in 89 or 90 and was used as a fire trainer after the A-3 retired from Naval service. Fast forward 20 years and the jet is still there but will not be used as a display bird. Castle Air Museum is paying for 3-4 A-3 folks from the Georgia Florida locale to take a 3 day trip to Key West to acquire a few parts to make 144843 exterior complete and original.
I apologize for that info slipping my mind and I hope this bit of news will encourage you to donate again and/or tell a friend about the good work being done to save our whales!
May 2012
I recently received a report from Joe Pruzzo that our RA-3B was pulled out of the hangar, wings spread and pushed back in the hangar. She is undergoing restoration activities prior to paint (sanding, repairing structure, etc.). Joe says that he'll have some new pictures of her Wednesday.
Monetary Report:
Total Raised - $5,921 and total donated to Castle - $5,900 (Note: I'll send in another $1,000 on behalf of our group when we hit that mark). A great big thanks to Donna & Maurice Weaver who donated again this month along with Don Fournier and John Dudley. Remember that our association and Castle Air Museum are both 501c3 charities and your donations are what helps keep the memory of your aircraft and mission alive.
Please pass the word to other Whalers and VAPPERS