Miss the sights and sounds of an A-3?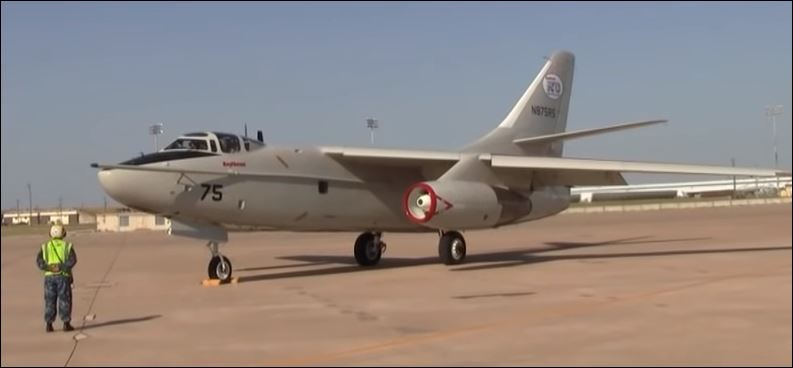 On 6-30-2011 after several days of consulting with Raytheon, NAVAIR, NMNA, and the A-3 Association. It was agreed to fly the jet to Pensacola for display. The A-3 Association deposited $15K with Raytheon and on the 29th, Ron Woltman and crew departed Van Nuys at 1945 CST arriving NAS Fort Worth at ~2215. We (A-3 Assoc) met Ron and crew at the aircraft and transported them to the hotel. Early the next morning we readied the jet for it's last flight and Ron and his crew took off for the last time at
9:10
CST Fort Worth, TX for Pensacola, FL. We'll miss the sound of those J-57's and we will miss the A-3 Skywarrior. Remember, we have 20 of these in museums so please donate to the A-3 Association so we can keep them all looking as good as Raytheon kept this one.
Click on the link below or the above picture to see the video.
https://www.youtube.com/watch?v=yr7CJibs4hc
These photos were take at Naval Air Station Joint Reserve Base, Fort Worth, Tx. by professional photographer Carl Richards. Contact him at:

Carl Richards
306 Cozby South
Benbrook, TX 76126
817-944-7608
crich58@yahoo.com
These were taken Thursday morning June 30, 2011 as EA-3B 144865 departed Fort Worth for its final destination at the National Museum of Naval Aviation in Pensacola.
Photos following the
were taken by Mark Swisher in Fort Worth during fueling.
Photos following the
were taken in Pensacola by Capt. Ed Ellis of NMNA.

-CarlRichards-06302011-A-3D-Rayco-75-170.jpg

-CarlRichards-06302011-A-3D-Rayco-75-202.jpg

-CarlRichards-06302011-A-3D-Rayco-75-266.jpg

-CarlRichards-06302011-A-3D-Rayco-75-263.jpg

-CarlRichards-06302011-A-3D-Rayco-75-262.jpg

-CarlRichards-06302011-A-3D-Rayco-75-277.jpg

-CarlRichards-06302011-A-3D-Rayco-75-286.jpg

-CarlRichards-06302011-A-3D-Rayco-75-296.jpg

-CarlRichards-06302011-A-3D-Rayco-75-299.jpg

-CarlRichards-06302011-A-3D-Rayco-75-048.jpg

-CarlRichards-06302011-A-3D-Rayco-75-053.jpg

-CarlRichards-06302011-A-3D-Rayco-75-088.jpg

-CarlRichards-06302011-A-3D-Rayco-75-095.jpg

-CarlRichards-06302011-A-3D-Rayco-75-097.jpg

-CarlRichards-06302011-A-3D-Rayco-75-127.jpg

-CarlRichards-06302011-A-3D-Rayco-75-132.jpg

A-3 logo_oval_med.jpg

6-30-11_Ron_Woltman_Pilot_Last_A-3_Flight.jpg

144865_Last_Fueling_Op_NAS_Fort_Worth.jpg

144865_Geoff_Gohl_Checking_Wing_Tanks.jpg

144865_Ron_Woltman_and_John_Galle_Giving_Direction_to_Ground_crew.jpg

6-30-11_Ron_Woltman_John_Galle_Geoff_Gohl_Flight_Crew.jpg

a-3 front.gif

DSC_00690888.JPG

DSC_00760890.JPG

DSC_00730889.JPG

DSC_00780891.JPG

DSC_00860892.JPG

DSC_00870893.JPG

DSC_00660887.JPG