"COWTOWN"

EA-3B Skywarrior Memorial Foundation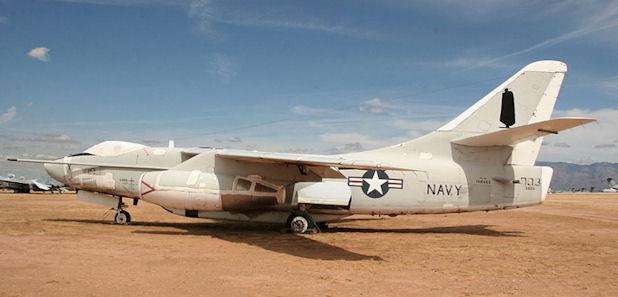 "Mission Statement"
To provide the means and solicit funds to place the EA-3B Aircraft (BuNo 146453) on static display at the Vintage Flying Museum, Meacham International Airport, Fort Worth, Texas as a memorial to those who flew this aircraft, to those who perished and those who provided the support for the crews and their mission. Furthermore, this honors the numerous service members who either flew as aircrew members or as maintenance personnel or both and now reside in the North Texas area. Throughout several decades, numerous A-3 Skywarrior squadrons operated out of military airfields here in Fort Worth (Carswell Air Force Base) and Grand Prairie (Naval Air Station Dallas), Dallas Love Field and Waco, Texas whose facilities provided support for a multitude of Naval Aviation operations. Additionally to educate the public on Naval Aviation History. The purpose of this version of the A-3 Skywarrior aircraft was to preserve peace during the cold War era, to provide electronic reconnaissance support during the Vietnam War and the Gulf War. The aircraft and its crews shall not be forgotten
Now accepting tax deductible donations for the rescue and restoration
of EA-3B 146453
---
May 2013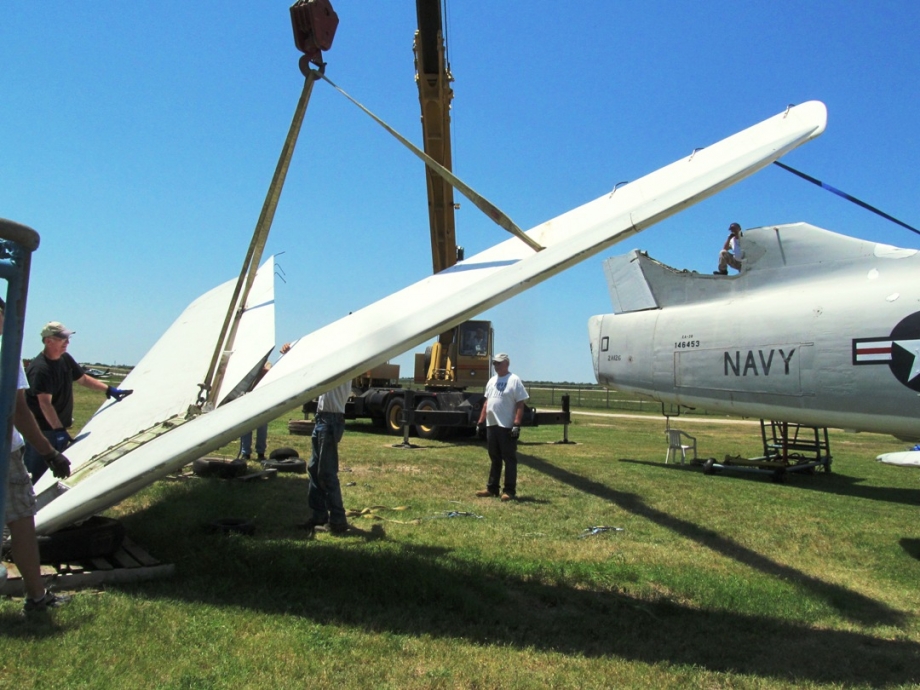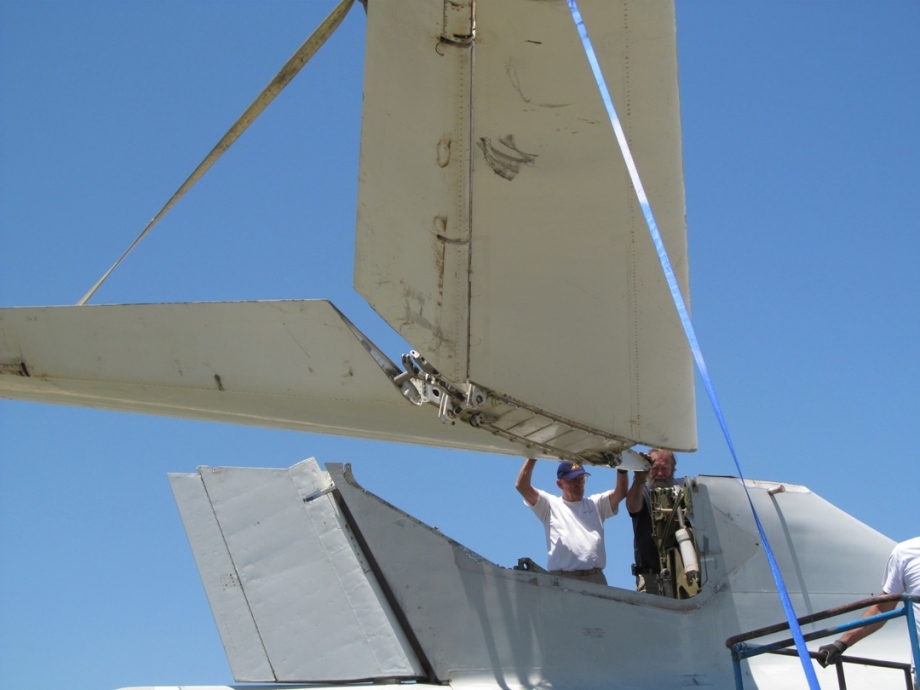 ---
April 2013

Bryan Barnett and Bill Gorin got together on a cold overcast day and using Bryans 1980 vintage pressure washer got Ranger 15 cleaned up. Bill Mego took the attached pictures and gave a report on our Facebook page. As I understand it, they couldn't get the propane heater going so the results might have been better but, she is looking good now. John Herndon commented that this was the first time she's been washed since 1990 back in the VQ-2 nose docks. Thank you Bill M, Bill G, and Bryan Barnett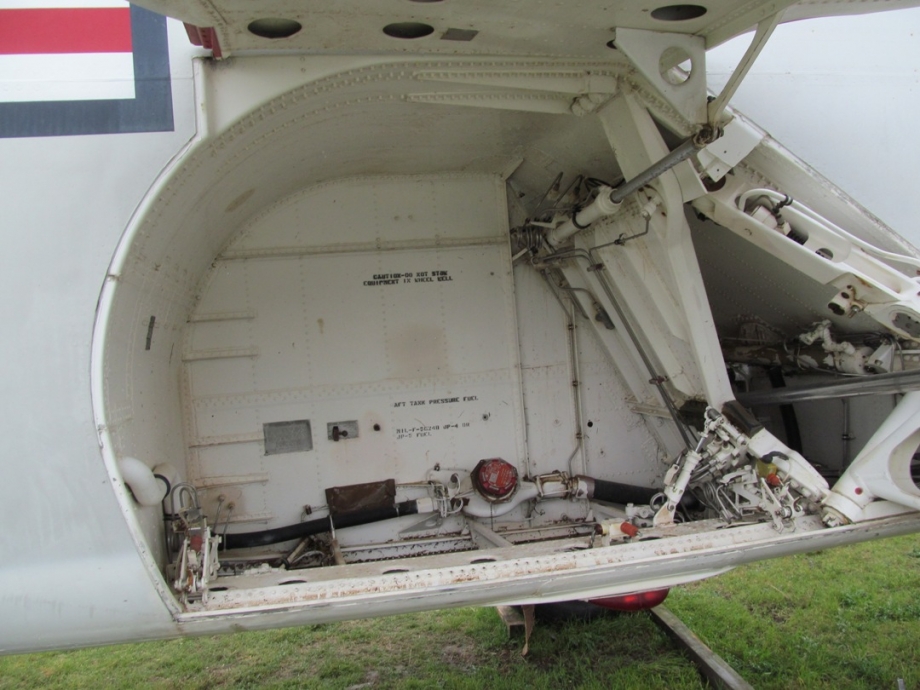 ---
We have added one more piece of support equipment to our growing stock of items used to support the A-3 Skywarrior. Last week Bill Mego and I went to NAS Fort Worth and picked up an 18' universal tow bar. This acquisition has been in work by Bill who is a retired Master Chief with the other Master Chiefs and Chiefs on base. They were able to locate the item which had been out of service and off the books for some time. The NAVY volunteers refurbished the tow bar on their own time and eventually brought it back up to standards and "donated" it to us at the Vintage Flying Museum. Now our Whale is mobile. Attached are the pictures of our new tow bar in my pickup (Bill and I had fun navigating that long tow bar from NAS Fort Worth to 38th St Museum) and attached to the Ranger 15. Our other support equipment is an aircraft lifting sling, various tooling to remove and install stuff, multiple other type slings, and two engine stands. The stands are loaned to us by Castle Air Museum who essentially got them via Master Chief Mike Glenn when Raytheon was shutting down A-3 ops. MCPO Glenn also got us our bevy of SE mentioned earlier. So hats are off to all of the Master Chiefs and Chiefs who helped get our SE for the Whale…and to think that for a number of years the NAVY did not have Master Chiefs, must have been some really tough years.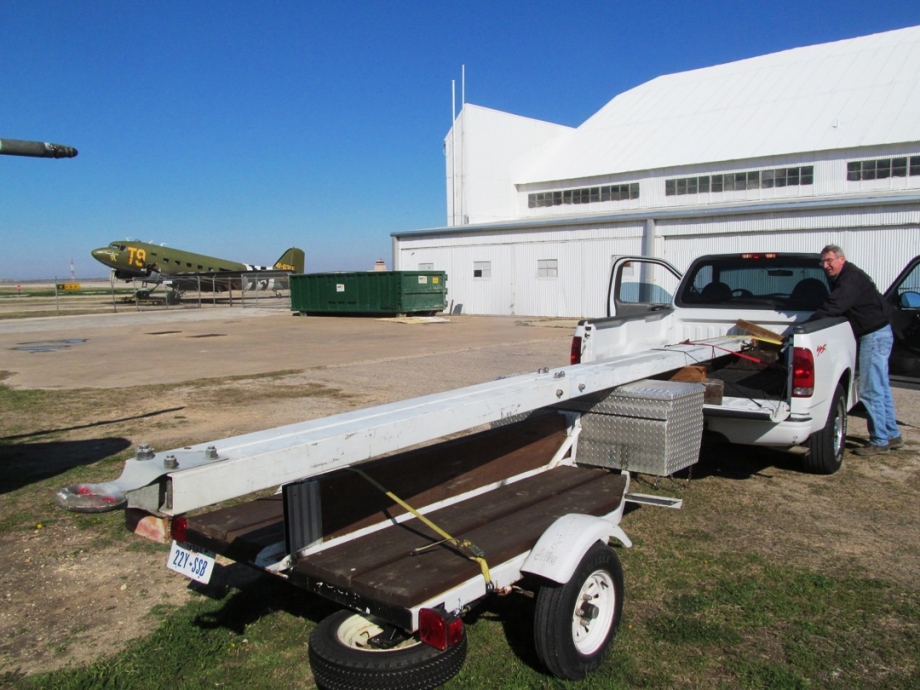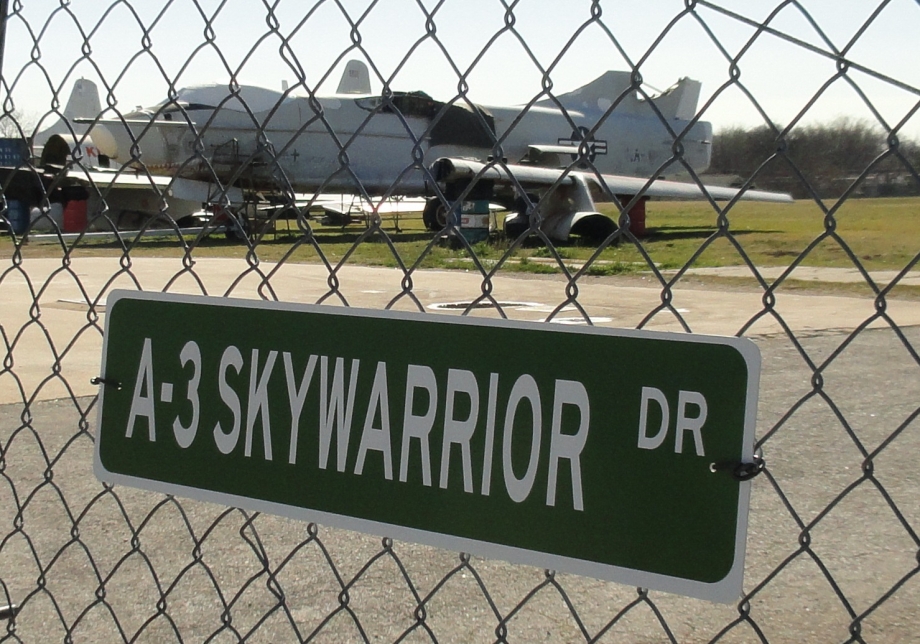 Feb. 2013
Since our last SITREP we have been busy reassembling your EA-3B. After the holidays, Al and Wanda Murray traveled from Kentucky and spent two weeks in their RV and worked on the Whale just about every day then John Herndon travelled up from Houston and spent several days working on the jet. Locally we had Roy Acrea, George Harris, Bill Mego, myself, Bill Gorin, Alan Smith and others (I'm sure I've missed someone) Here are the things that are in work or done.
In flight refueling probe installed – Needs an anchor nut to be complete
New tires installed – This may have already been reported but worth reporting again and thanks to Mike Glenn for ensuring we had new rubber for our Whale
Rods installed on Main Landing Gear door actuators to keep the doors "pumped up" open for eternity – Other museums should do the same. Al bought some 18" pipe from Home Depot and him and Bill took off the end caps, installed the rod, and reassembled like new. There's a picture in here with Al testing them out.
Nose gear door installed – Ram air turbine generator safetied
Scissors installed – Remember that AMARG did not disconnect the scissors when they towed the jet over to Pima and destroyed the old set….brilliant…Mike Glenn brought us a new set retrieved from Raytheon during shutdown phase
More sealant removed and spraylat removed from wings, center wingbox, fuselage, readjusted LH wingbox flush, and etc.
Everyone keeps eating away at the bird and we get more done as the weeks go by and we are getting close to some good weather and will be able to reinstall the big stuff (wings, tails, and engines)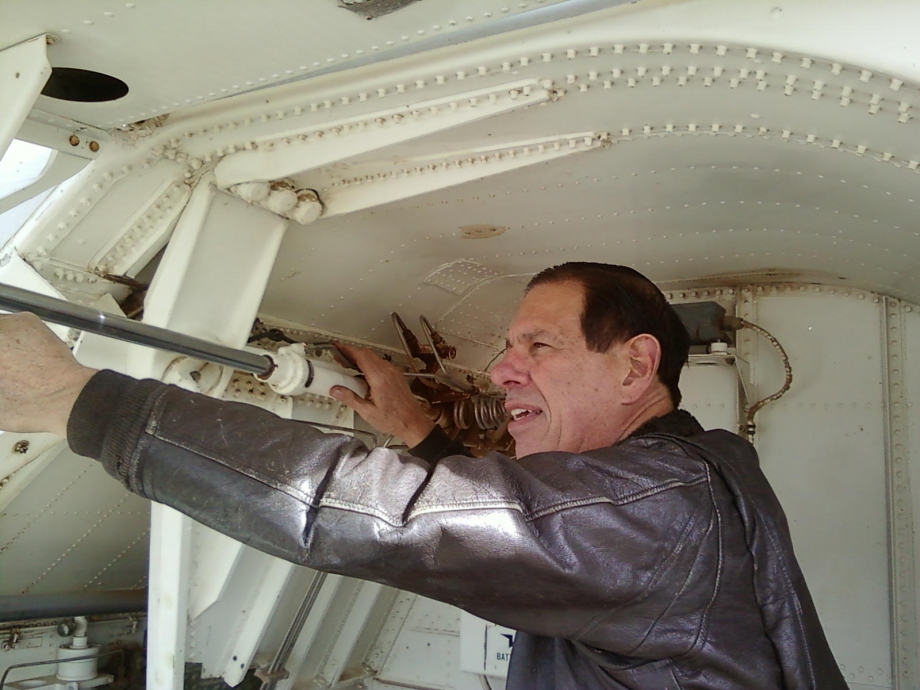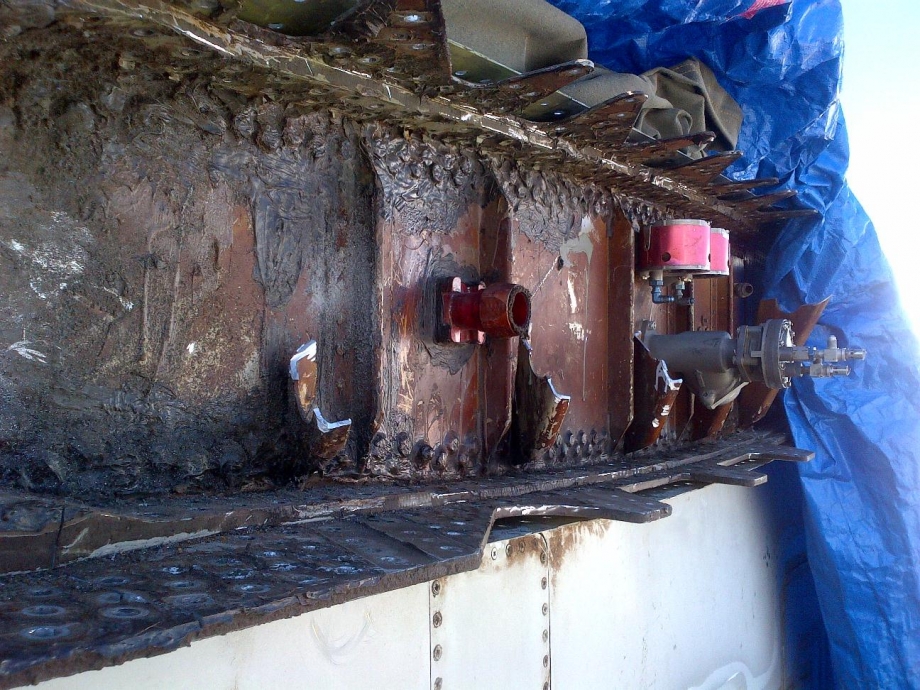 ---

Dec. 8, 2012 Situation Report
Welcome aboard George Harris who is a Benbrook resident and signed up yesterday with the VFM. George was a Crew Chief in VAQ-33 and helped setup the various maintenance trainers that the RAG used down in Key West to train a boat load of A-3 mechanics throughout the years.
We have a lot to do and we typically are not working everyday due to other commitments. I work 2nd shift just about every day and so am available usually on Saturdays for about 5 hours, other people are similar but then some of you all are retired (like Bill Mego who retired Dec 1st , congrats Bill). This is our upcoming schedule
Saturdays – work day for us….no invitation needed, just bring your tools and meet at the aircraft. We'll burn down the attached list of things to do (restoration schedule) and re-prioritize
Dec 22nd – John Herndon will be in town and will help replace the tires. Bill Mego said that he would be available as well. We'll just make sure everything is ready to go before John shows up.
1/5/13 – 1/19/13 – Master Chief Al Murray will be in town for two weeks to work on the Whale and so this would be a good time to get some additional volunteers to work on the jet.
Please if you have ideas or things you see that need to be done and tracked, let me know and I'll add to the list.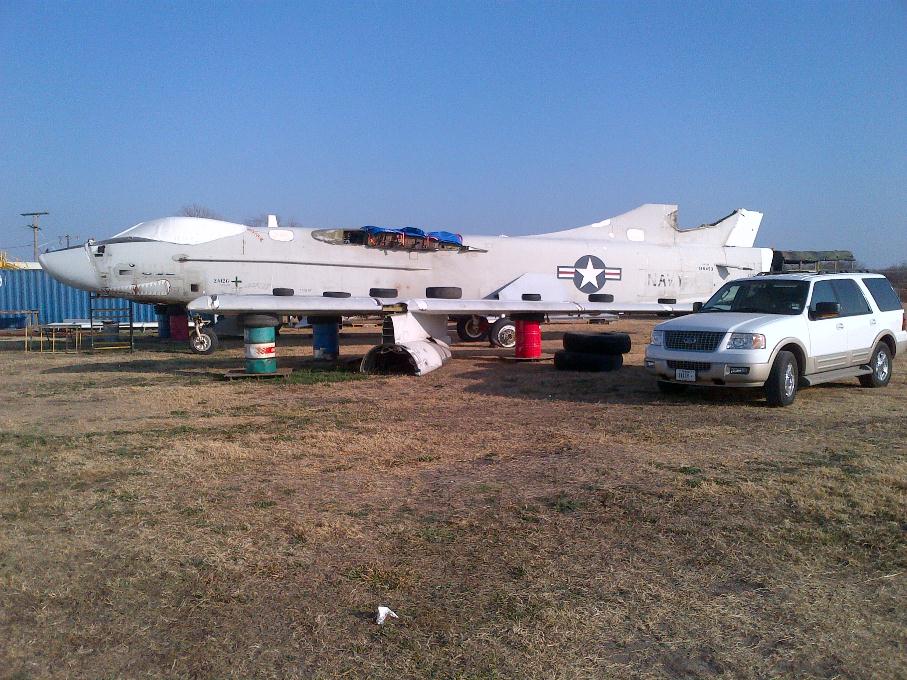 ---
Daily reports of activity by the "wrecking crew" in Tuscon.
The crew - Al Smith, Jim McKnight, Mark Swisher, Doug Allen, Pete and Carol Nowicki, Jim Sacket, Mike Glen, Ty Wilcox, and Bill Grant. Did I miss anyone?
AND IT IS LOADED AND ON THE WAY !!!!!!!!!.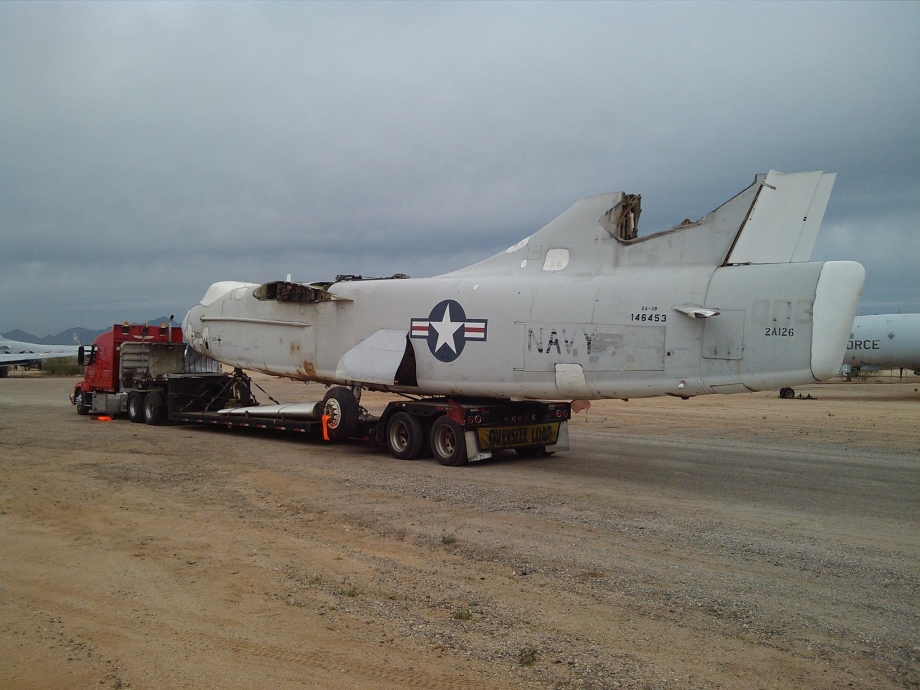 ---
Day 11, Nov. 16, 2012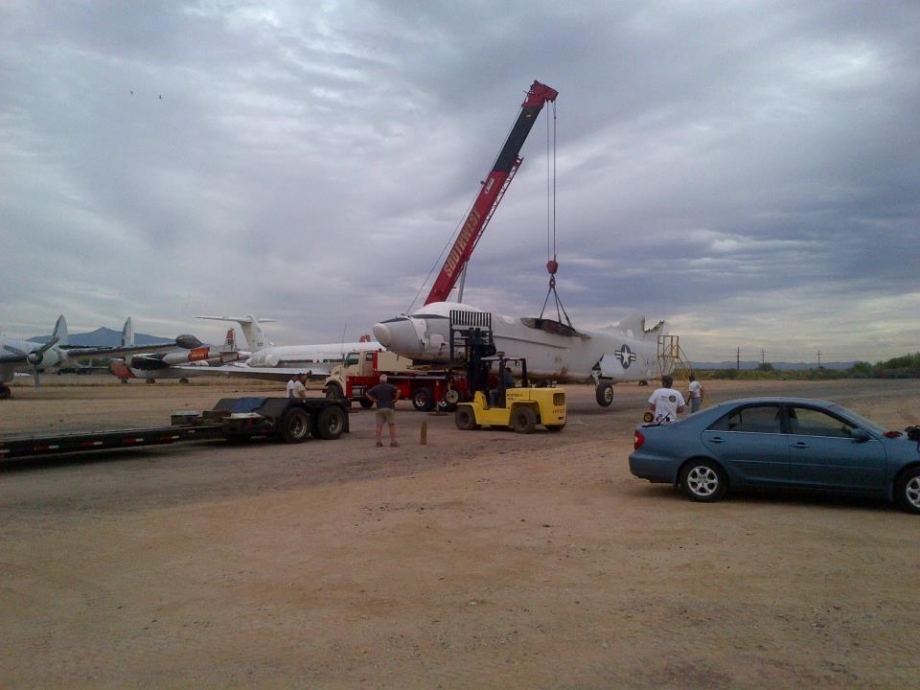 Day 11 - We have finished the majority of the tasks. Today was a long day with final removal of structure holding the wing on and prepping the wings for easy loading when the transport returns for the 3rd load. Going out tomorrow morning is the fuselage and vertical tail. The next load is the horizontals and wings. Our team is happy to report that we have completed dis-assembly of the aircraft and that we did it on schedule. We are all looking forward to returning to our loved ones and our lives but will miss the camaraderie of the 11 volunteers that worked hard every day to make this happen. Our MVP was Doug Allen an Air Force Master Sargent. Who was the main guy who knew how to take those wings off. Good fun and hard work but we now start Phase 4 of this EA-3B Recovery.

Ranger 15 Det Tucson.
---

Day 10 - Nov. 15, 2012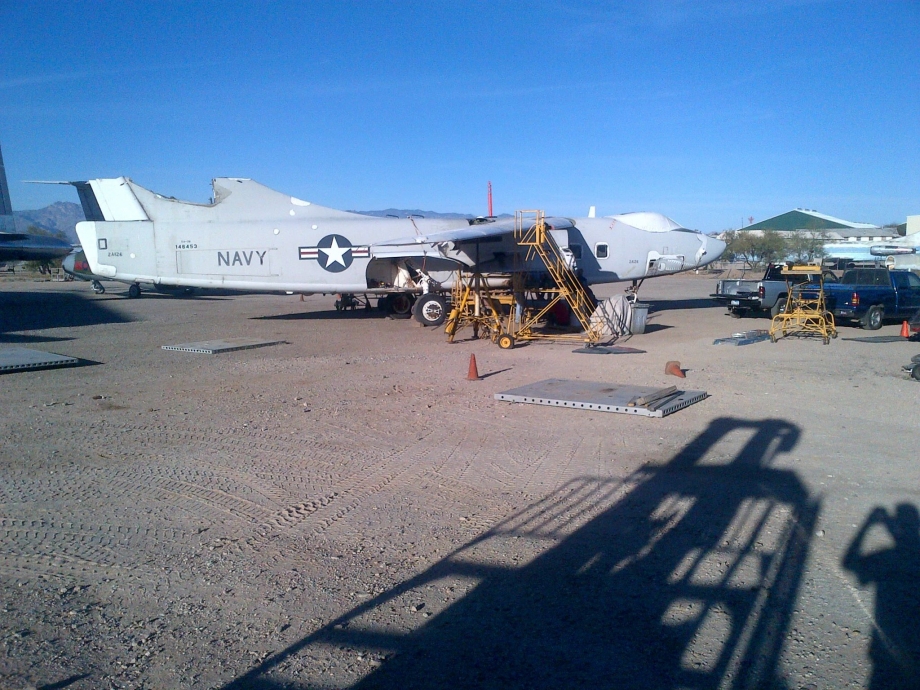 Day 10 - We finished removing all of the hard to get to bolts associated with the wing. Tomorrow at 0830 the crane from Industrial Rigging will be here to hook up to our starboard wing and we will remove the 55 fasteners on top. Basically we have removed 1500 fasteners and many buried in the center wing box. We are hopeful that the wing will slide off but we expect to hear a couple loud pops as the one or two fasteners we forgot hit their tensile strength load. Our transport is here and will be loaded when both wings are off. We are pretty confident at this point that we will have a successful day tomorrow and that the fuselage will be heading towards Fort Worth.

Ranger 15 Det Tucson

---
Day 9 - Nov. 14, 2012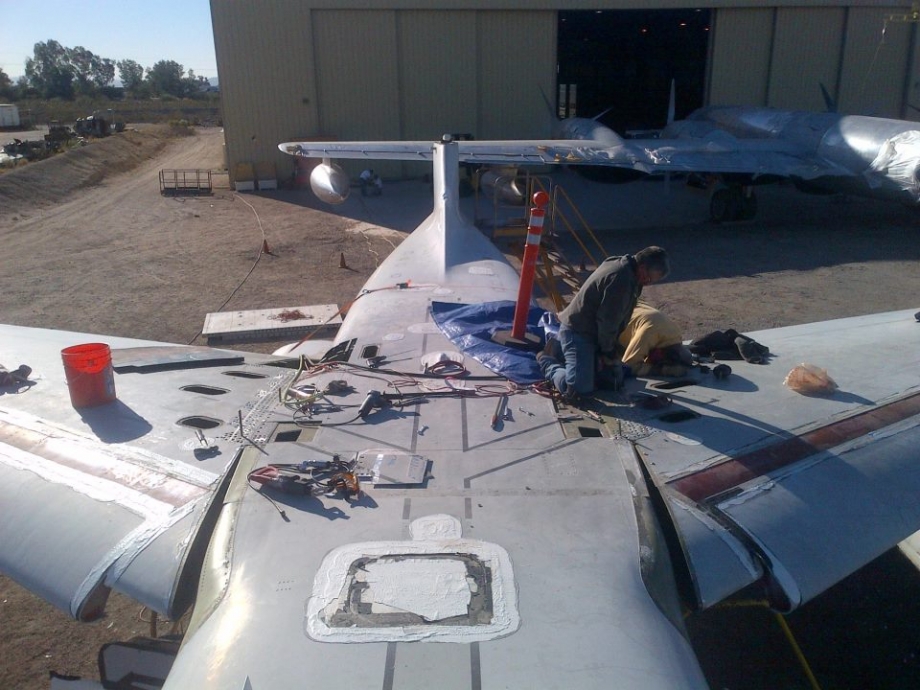 ---
Day 8 - Nov. 13, 2012
---

Day 7 - Nov. 12, 2012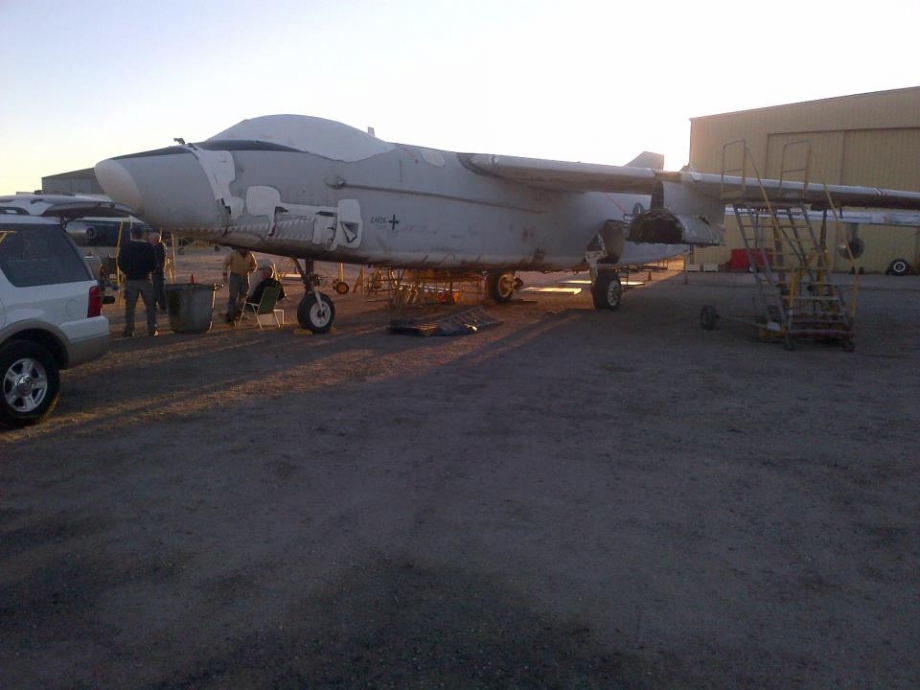 Day 7 - Another day and the wing is not much closer to being off than it was yesterday. We probably removed another 50 bolts so I'm not optimistic of finishing on time. We also managed to remove a good portion of the engine cowlings and some of the components that are in the way of the forward wing spar. Our resident expert, Doug Allen, had to go to the Doc for some checks so we were down one man and he is our wing expert. Hopefully tomorrow will be a better day with more progress.

---
Day 6 - Nov. 11, 2012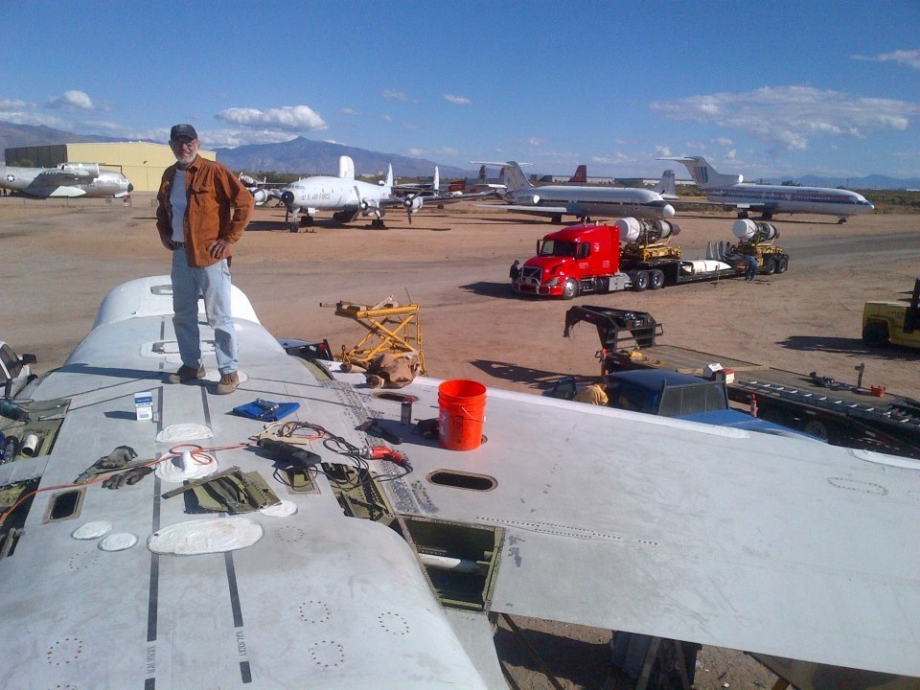 First truck load ready to roll for Ft. Worth in the background

---
Day 5 - Nov. 10, 2012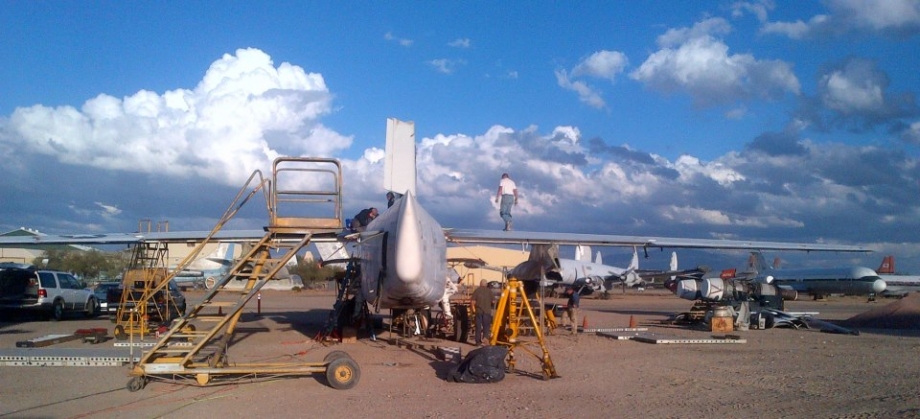 Day 5 - Engines are both out, flaps removed, and the first load is ready for shipment. Our truck will be in tomorrow. We continue to drill and cut fasteners from the wing. Today was cooler so a better day today. Swish

---
Day 4 - Nov. 9, 2012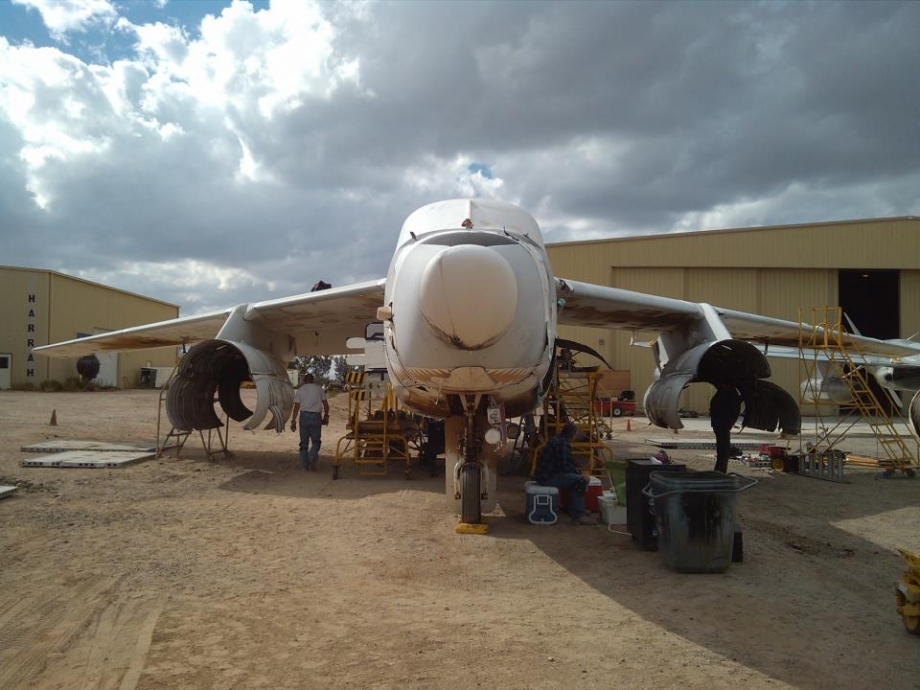 Engines off of 146453

---
Day 3 - Nov. 8, 2012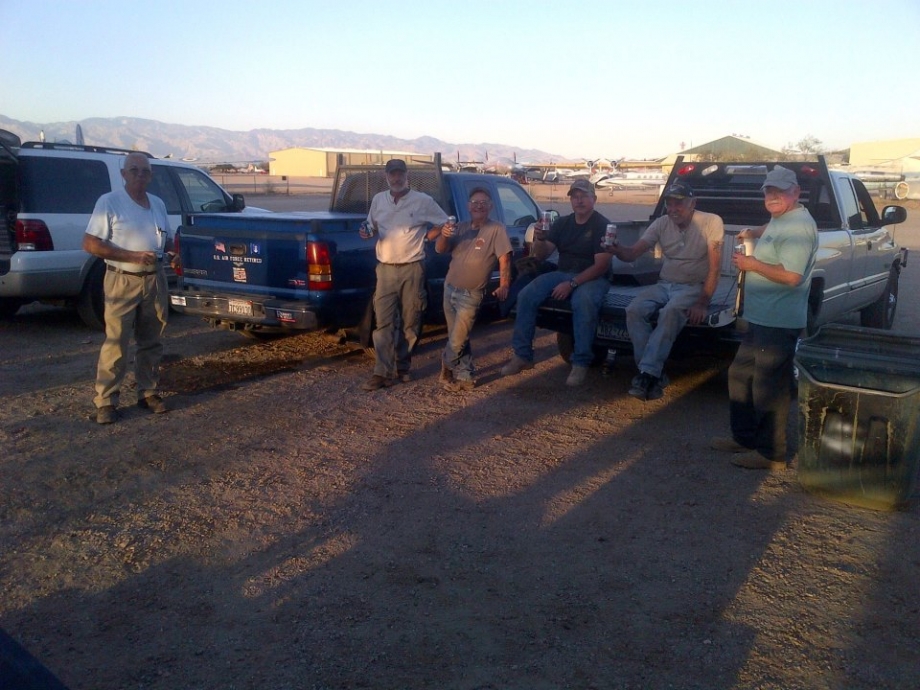 Day 3 - We took off the Vertical tail, installed strut locks, prepped horiz tail for removal, and drilled more fasteners off of the wing all day. We are making progress and think we are on schedule. Here's a shot of a few volunteers after work on day 3.

---
Day 2 - Nov. 7, 2012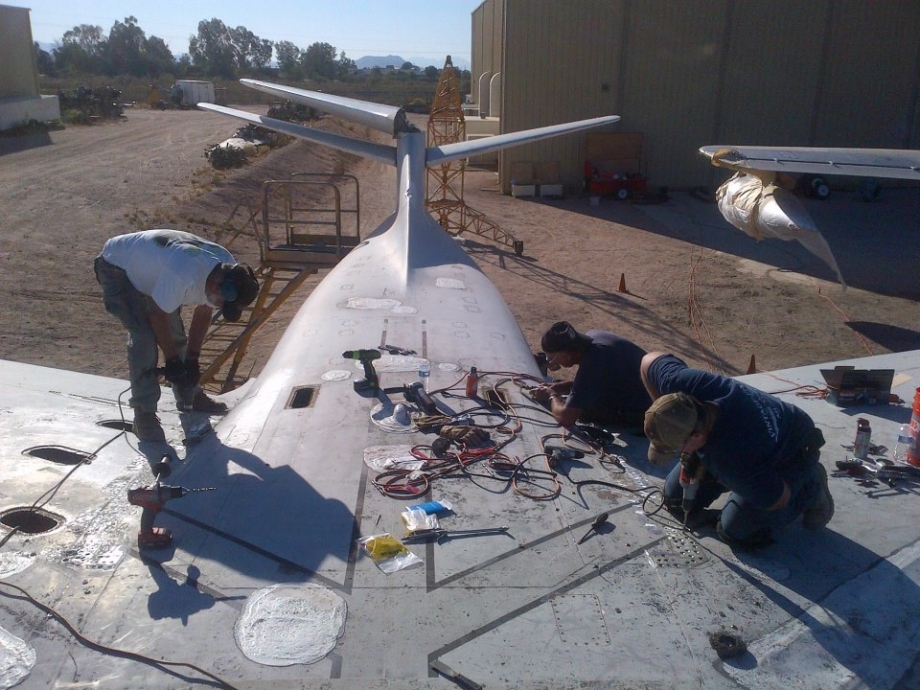 Day two - folded fin and wIll fold wings by EOS. Four of us on the wings topside where we removed sealant to gain access to 600 fasteners on top and we opened 6 panels to access 600 fasteners on bottom. We have made good progress and have actually drilled out about 60 fasteners. We sent Pete and Carol Nowicki to Fresno to pickup the engine stands from Fresno. This will cost us another grand or two but we don't have the time to mess around! ... Swish

---
Day 1 - Nov. 6, 2012
Day one - having fun and got a few things done. Mainly engine cowlings open, IFR probe removed, cockpit stripped, flaps coming off, struts deflated, scissors removed, etc. It's hot out here and work is hard but enjoyable. Swish

---

Update November 2012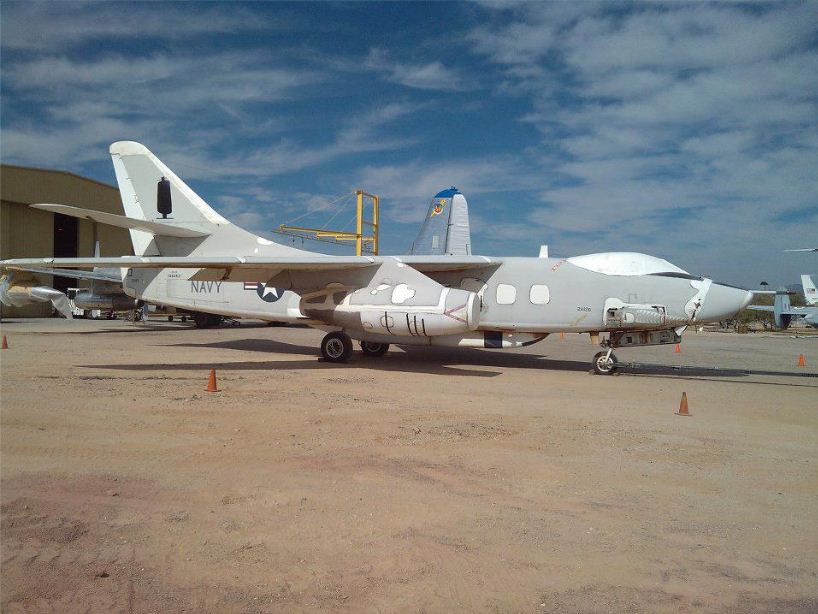 146453 is now parked at the Pima staging area for
dissassembly in preperation for transport to Ft. Worth.

Volunteer work crews depart Nov. 2 for Arizona to begin work.
Below are some comments about the project.
Meeting 10/27/2012
Attendance – Bill Gorin, Mae McKnight, Jim McKnight, Alan Smith, Mark Swisher
Salient points:
· We tested and then loaded (2) 20 ton jacks. Looking at what the Midway crew used we thought this would be enough and besides the A-26 needs a gear swing and the other set of jacks
· Al Smith will be our advance team and be in Tucson Nov 2nd. Al is going to try and get our Pima badges, check on the A-3, take some pictures, and possibly power wash the aircraft.
· With Chapman Transport sending a truck earlier than we originally thought, we discussed having Bill Mego stay back and be the Fort Worth coordinator. We need somebody dedicated to this task and Bill is probably the best choice
· Jim is heading out @ 0400 Saturday 11/3 and I'll be heading out @ 0800, we'll meet up in Las Cruses, NM or some other point West of El Paso. We plan to meet up with the gang at Davis Monthan Inn @ 1600 or thereabouts
· Attached are the phone lists so that everyone can stay connected. Also attached is our recovery team XLS, in there I also have a punch list and schedule that we will try to maintain.
Update July 2012
Here is the status of the EA3B 146453 in Davis-Monthan.

External complete, no apparent major damage.
Missing tailhook, mounting parts are inside LH wheel well.
Nose wheel scissors disconnect links damaged, so they removed lower scissors bolts for towing.
All interior equipment racks are empty, no ECM gear installed.
Interior is relatively clean as lower door has been closed for a long time, and upper hatches are covered
with spraylat, so clean and dry inside.
Cockpit appears complete, clocks are missing, removed on induction, but John Dunlap says that AMARG
removals go with airplane so those should be available.
No gear installed in Pos #3 rack.
Missing some radio units, noticed VIR-31's are gone, but rest appears intact.
All tires are pretty much flat, may or may not hold air, but John says AMARG will not air them, will
replace, and old tires and wheels go with the airplane. Our replacement tires are pre-positioned at Pima
thanks to Scott Marchand and Jason, his restoration guy.

So other than installing inflatable tires, airplane should be readily towable to Pima. New cost estimate
coming, John estimates around the
$8,000 mark.

Asked about logs and records, John says they send books to Pensacola when airplane departs, but if we
desire, bring your own paper reams and we can use their copier to copy full books before they depart to
Pcola. I asked about other airplanes by the way, thought maybe we could at least get the history
sections copied, but the day the airplanes went to the scrappers, the logbooks were shredded.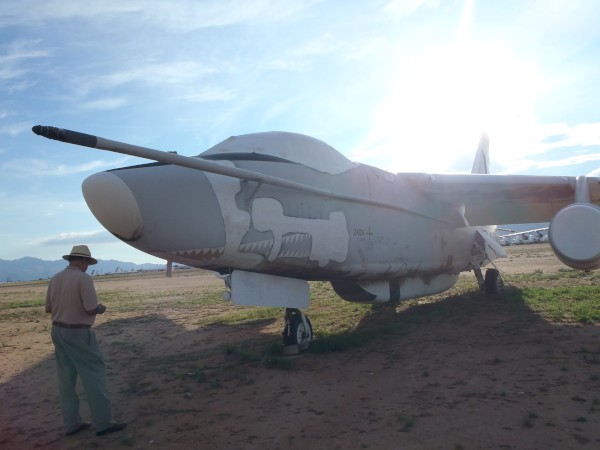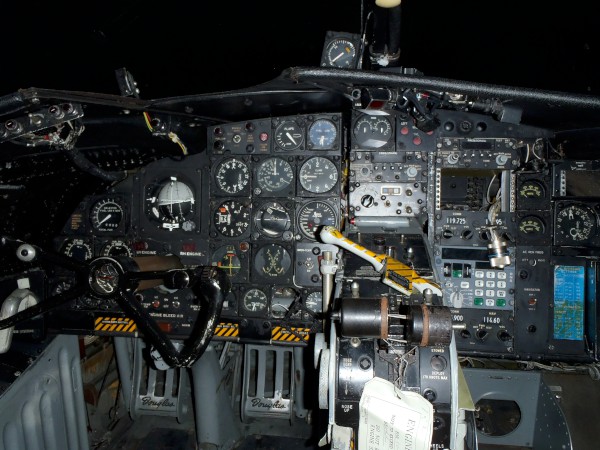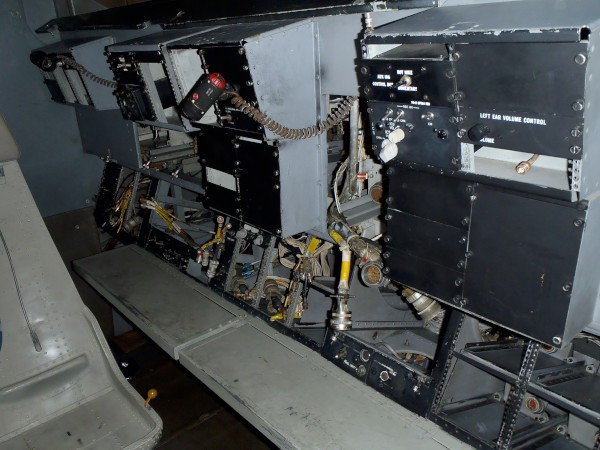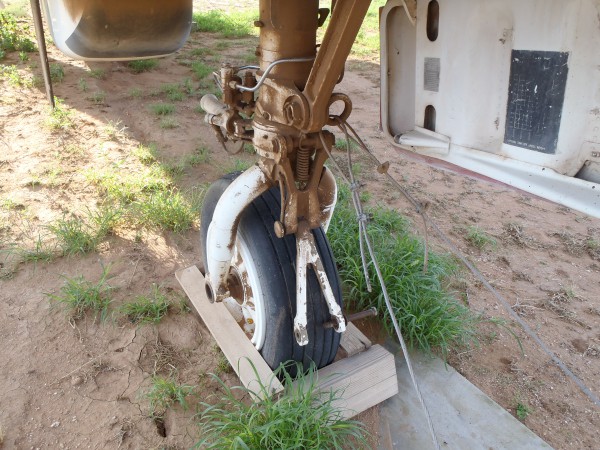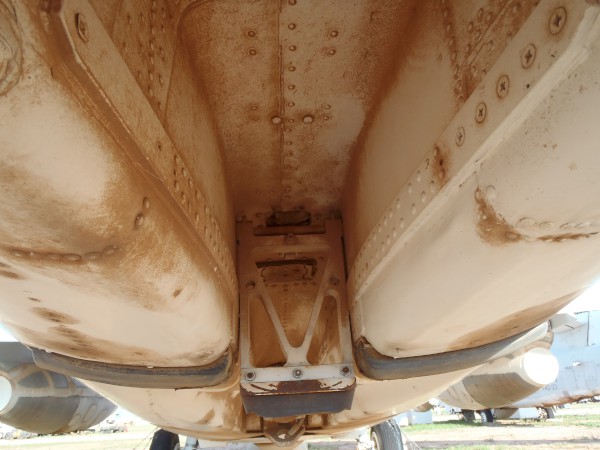 Update March 2012
We have a bird!
Mission "red tape" completed.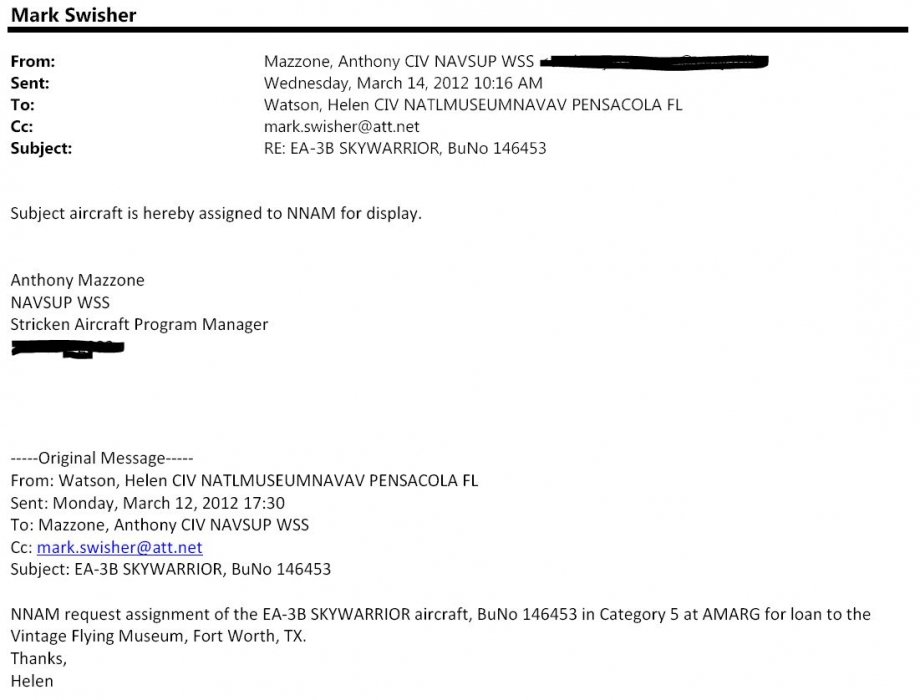 ---
For updates on donations and other info related to this project, follow
John Herndon's web site. CLICK HERE