"COWTOWN"

EA-3B Skywarrior Memorial Foundation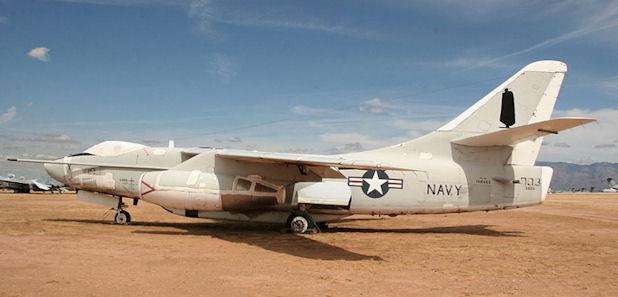 "Mission Statement"
To provide the means and solicit funds to place the EA-3B Aircraft (BuNo 146453) on static display at the Vintage Flying Museum, Meacham International Airport, Fort Worth, Texas as a memorial to those who flew this aircraft, to those who perished and those who provided the support for the crews and their mission. Furthermore, this honors the numerous service members who either flew as aircrew members or as maintenance personnel or both and now reside in the North Texas area. Throughout several decades, numerous A-3 Skywarrior squadrons operated out of military airfields here in Fort Worth (Carswell Air Force Base) and Grand Prairie (Naval Air Station Dallas), Dallas Love Field and Waco, Texas whose facilities provided support for a multitude of Naval Aviation operations. Additionally to educate the public on Naval Aviation History. The purpose of this version of the A-3 Skywarrior aircraft was to preserve peace during the cold War era, to provide electronic reconnaissance support during the Vietnam War and the Gulf War. The aircraft and its crews shall not be forgotten
Now accepting tax deductible donations for the rescue and restoration
of EA-3B 146453
---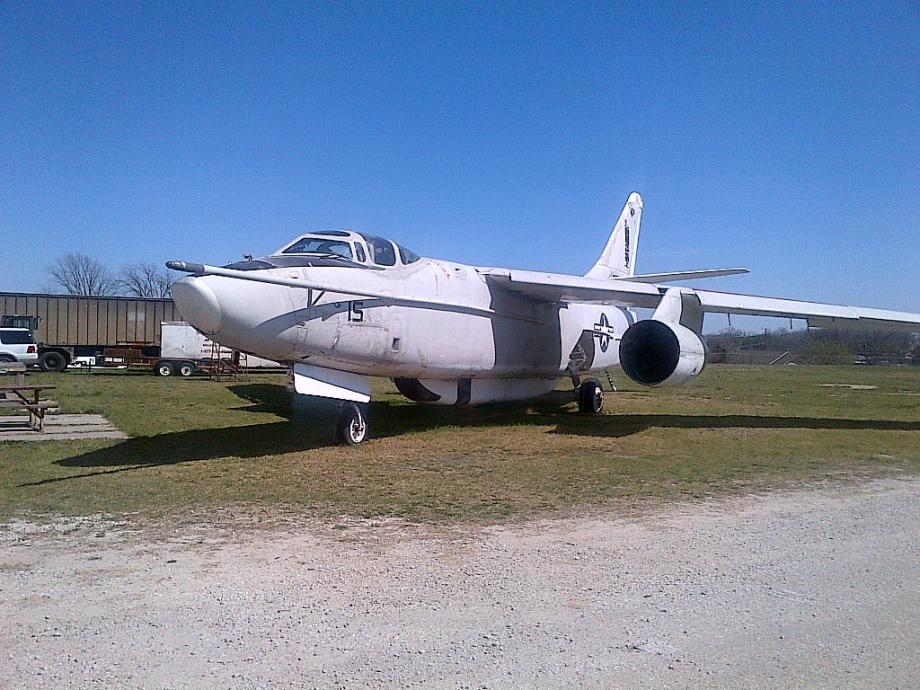 3-30-14
The tail fin is now unfolded and locked.

---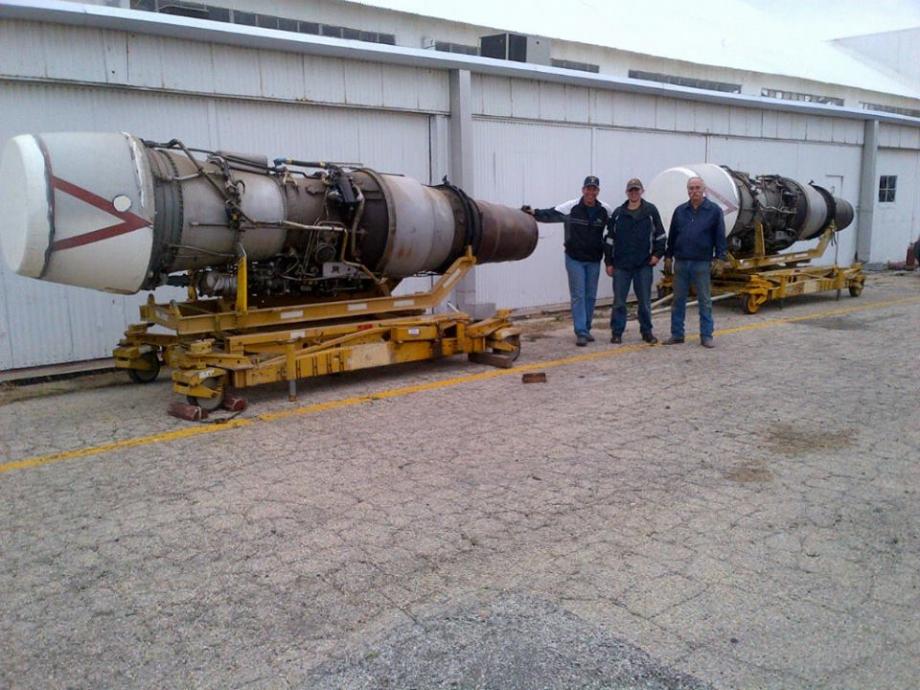 3-23-2014 - Pictured is Bill Mego, Brian Gorin, and Steve "Smitty" Smith next to our twin J-57's. We spent the day along with Alan Smith, Bill Gorin, and other volunteers re-arranging aircraft in the North Hangar to dig out our engines as well as make room for a B-29 that will be hangared here in Fort Worth. So we now have our engines out and the wing installation is to the point where we can hang them. We'll probably wait until our final restoration week starting April 28th before we install them and "finish" the aircraft. Another great day had by all at the Vintage Flying Museum.
---
Well, Saturday morning started out fairly decent. Warm but a little breezy. Alan, Wes (he works for Allan's company), "Smitty", my grandson Brian Gorin and myself were present. Smitty continue with the "sheet metal" work on the closeout straps to patch the skin on top of the fuselage where the wing skin was cut. The metal shearer got repaired in the back shop of the hangar. Wes, Brian and myself began gluing the countersunk bolts with J-B Weld Epoxy (tensile strength of 3960 PSI) into the holes that we could not get access to in order to install the nuts. We got most of the top forward section of the port wing finished. Just before noon, a storm front came in and it started to sprinkle. The wing was starting to get slick so we knocked off for the day.
I came out today (Wednesday) with the temp in the 60's and very breezy. Checked on the bolts that we had glued with the J-B Weld Epoxy. Wow, they are definitely in there solid. Couln't even turn them with a screwdriver. Continued on the top forward section of starboard wing with about fifteen bolts. After applying the epo, I secured each of the bolts with a wooden 1/2" flathead plug (got a Home Depot) and duct tape.

---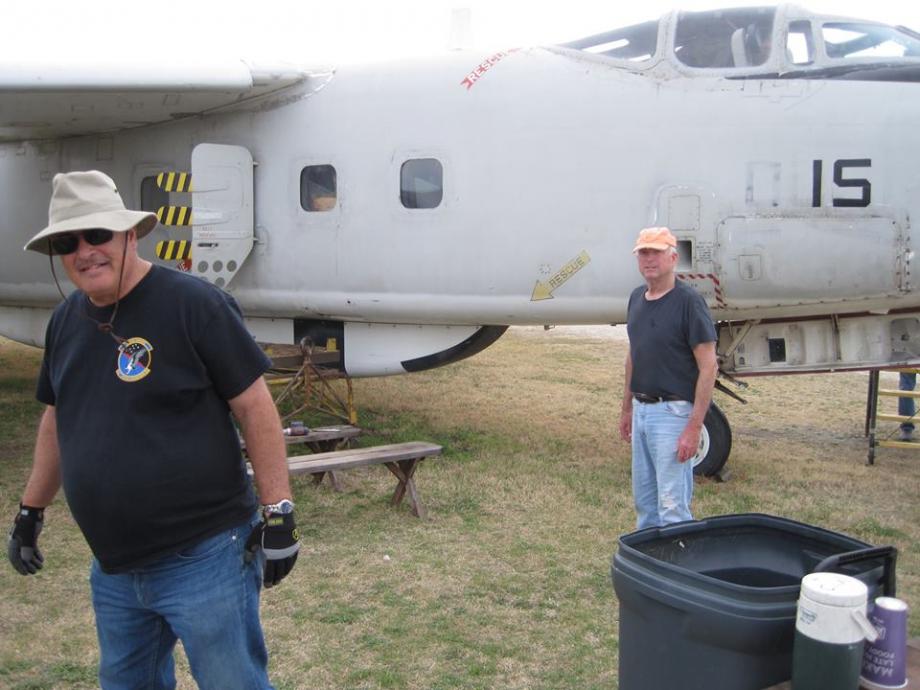 Steve "Smitty" Smith sent these pix and note:
Here are some pictures from yesterday, Saturday, at the bird. Allen got some more instruments installed, ...which ones I couldn't tell ya, more holes were filled. Tom , Roy and myself worked on some understructure that has to go back in up on top of fuselage. Punched out old rivets stems and got two pieces ready to reinstall when we start assembly riveting on top. Roy and I went on a scrounge mission and got us enough .040" sheet metal for the splices on top. Went in shop to cut them and the darn shear was broken, so maybe next week. I'm beat, yesterday made me about 25 - 30 hours or so this week out there cause of helping with the B-24 this week,. Also we comshawed a pretty nice vice that was laying outside in the scrap yard area. Going to install it on our old work table next week. Don't know who threw it away but it is too nice to trash.

---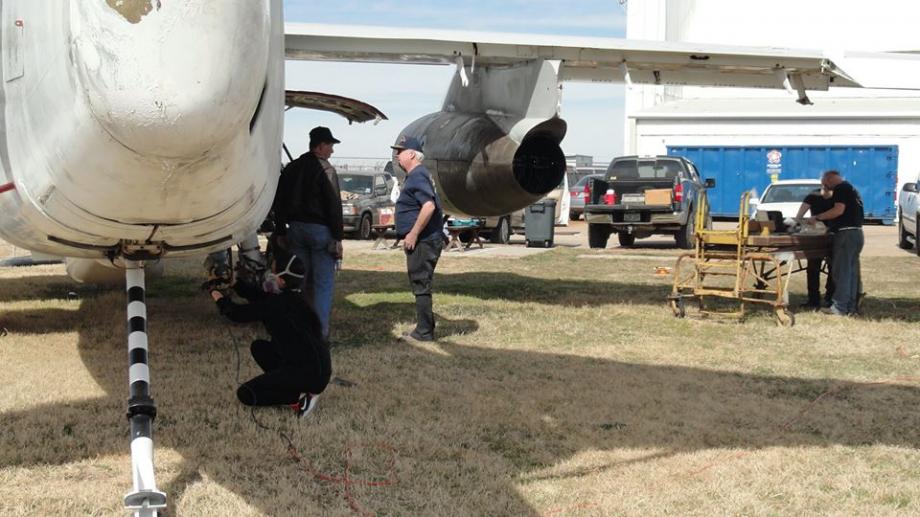 Jessica sanding the jet, Bill discussing things with Alan, Tim and Bob Winter looking at the maintenance instructions for hydraulic systems.
---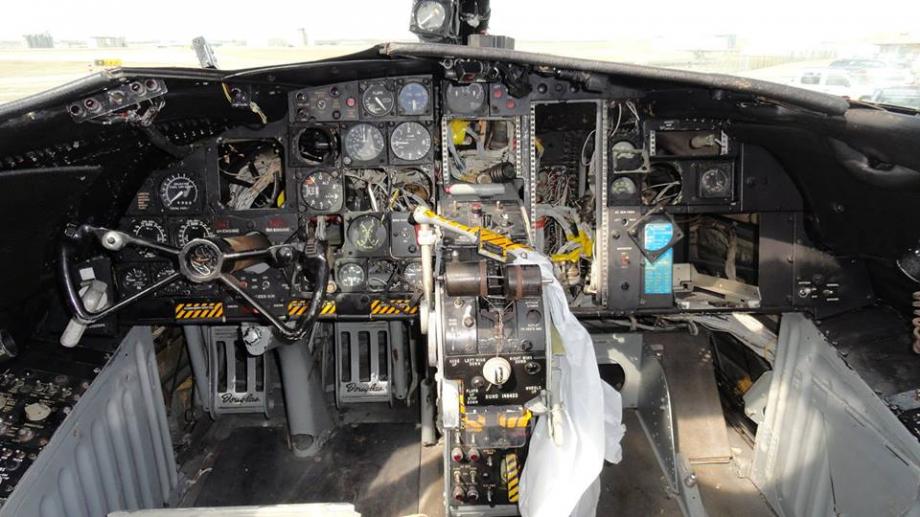 A shot of the cockpit. Anyone have an APS-133 radar scope
---
May 2013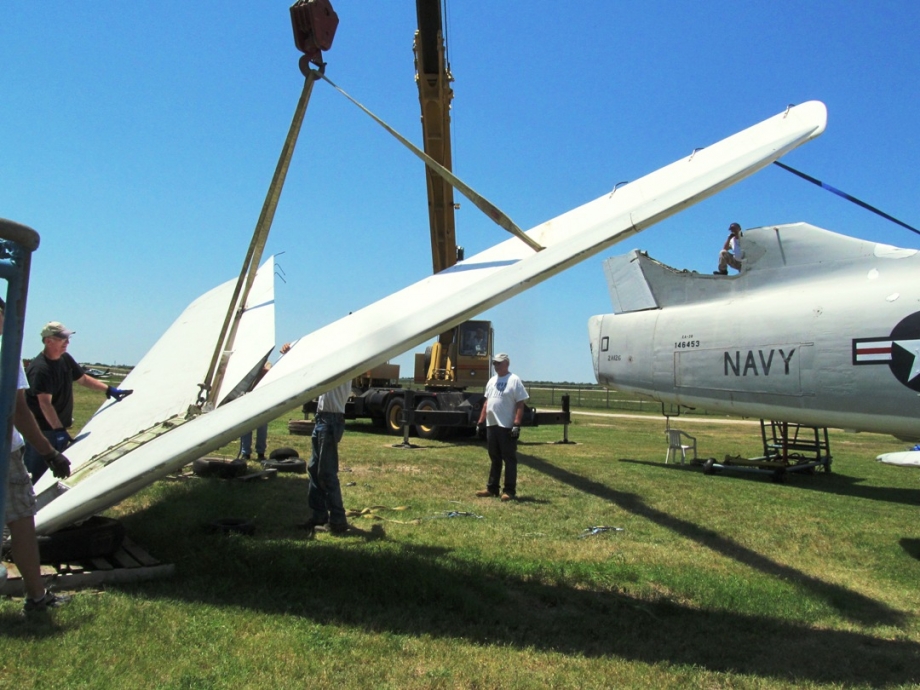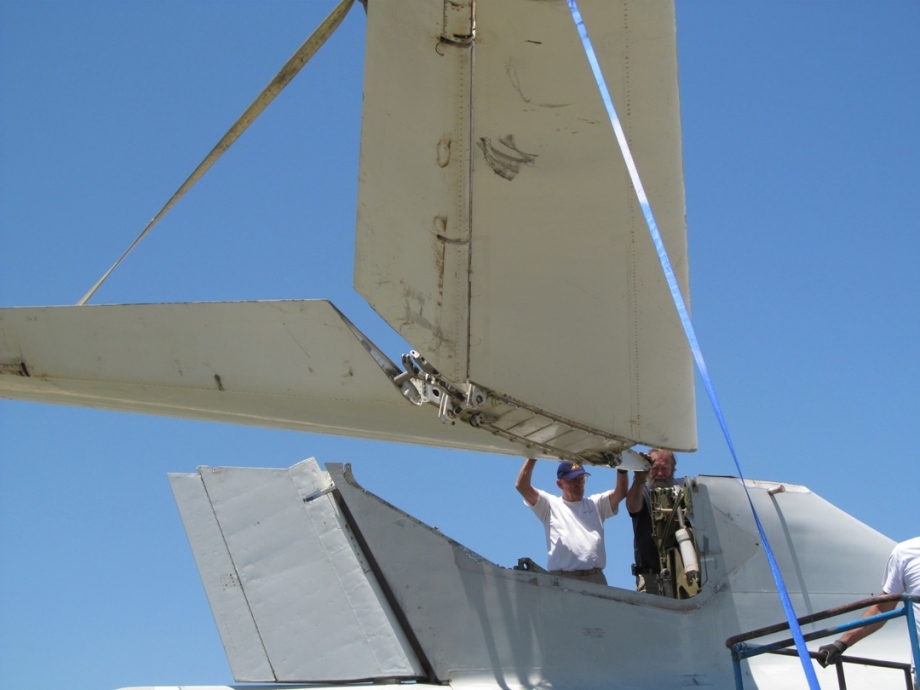 ---
April 2013
Bryan Barnett and Bill Gorin got together on a cold overcast day and using Bryans 1980 vintage pressure washer got Ranger 15 cleaned up. Bill Mego took the attached pictures and gave a report on our Facebook page. As I understand it, they couldn't get the propane heater going so the results might have been better but, she is looking good now. John Herndon commented that this was the first time she's been washed since 1990 back in the VQ-2 nose docks. Thank you Bill M, Bill G, and Bryan Barnett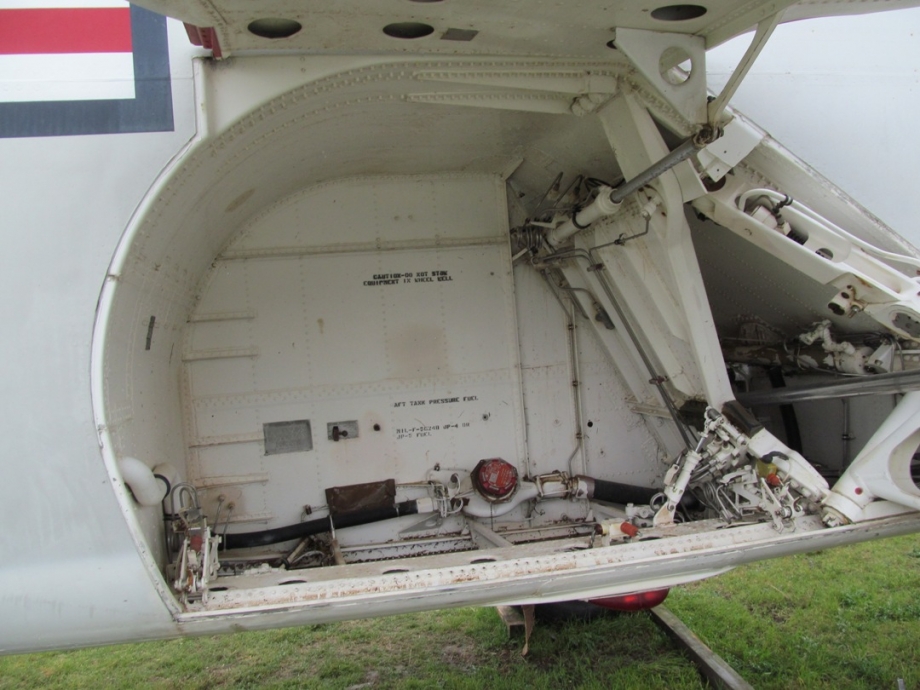 ---
We have added one more piece of support equipment to our growing stock of items used to support the A-3 Skywarrior. Last week Bill Mego and I went to NAS Fort Worth and picked up an 18' universal tow bar. This acquisition has been in work by Bill who is a retired Master Chief with the other Master Chiefs and Chiefs on base. They were able to locate the item which had been out of service and off the books for some time. The NAVY volunteers refurbished the tow bar on their own time and eventually brought it back up to standards and "donated" it to us at the Vintage Flying Museum. Now our Whale is mobile. Attached are the pictures of our new tow bar in my pickup (Bill and I had fun navigating that long tow bar from NAS Fort Worth to 38th St Museum) and attached to the Ranger 15. Our other support equipment is an aircraft lifting sling, various tooling to remove and install stuff, multiple other type slings, and two engine stands. The stands are loaned to us by Castle Air Museum who essentially got them via Master Chief Mike Glenn when Raytheon was shutting down A-3 ops. MCPO Glenn also got us our bevy of SE mentioned earlier. So hats are off to all of the Master Chiefs and Chiefs who helped get our SE for the Whale…and to think that for a number of years the NAVY did not have Master Chiefs, must have been some really tough years.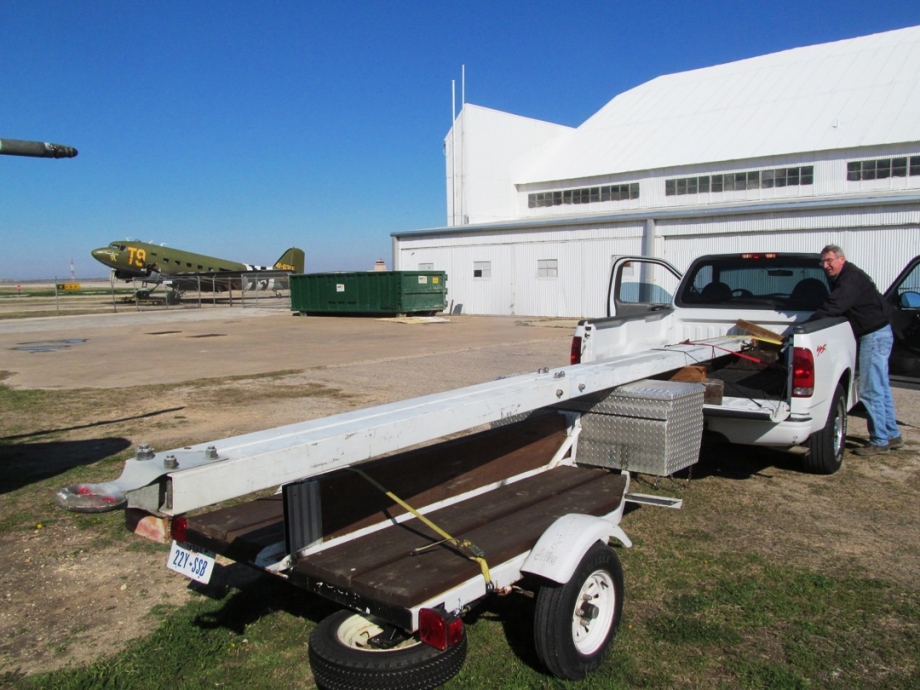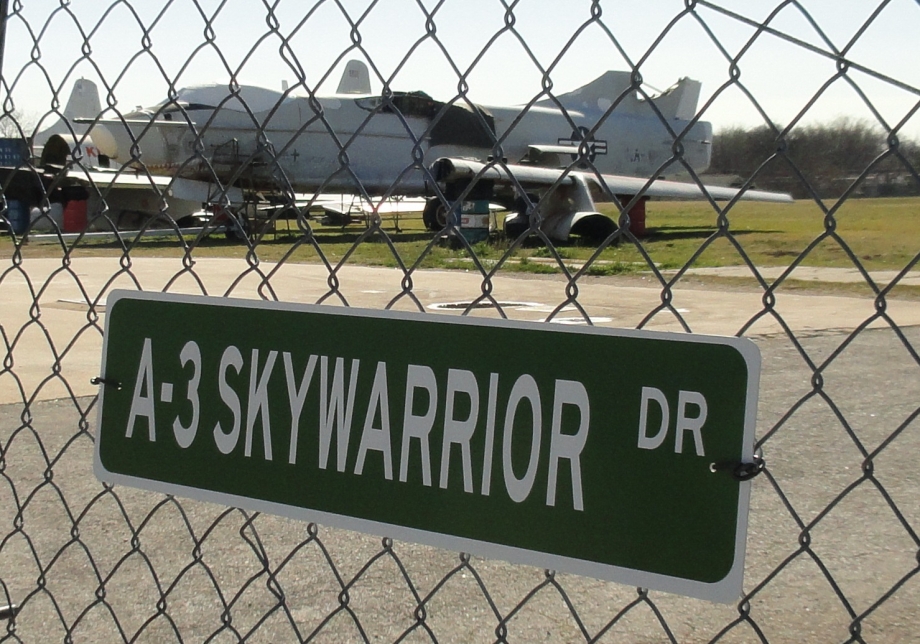 Feb. 2013
Since our last SITREP we have been busy reassembling your EA-3B. After the holidays, Al and Wanda Murray traveled from Kentucky and spent two weeks in their RV and worked on the Whale just about every day then John Herndon travelled up from Houston and spent several days working on the jet. Locally we had Roy Acrea, George Harris, Bill Mego, myself, Bill Gorin, Alan Smith and others (I'm sure I've missed someone) Here are the things that are in work or done.
In flight refueling probe installed – Needs an anchor nut to be complete
New tires installed – This may have already been reported but worth reporting again and thanks to Mike Glenn for ensuring we had new rubber for our Whale
Rods installed on Main Landing Gear door actuators to keep the doors "pumped up" open for eternity – Other museums should do the same. Al bought some 18" pipe from Home Depot and him and Bill took off the end caps, installed the rod, and reassembled like new. There's a picture in here with Al testing them out.
Nose gear door installed – Ram air turbine generator safetied
Scissors installed – Remember that AMARG did not disconnect the scissors when they towed the jet over to Pima and destroyed the old set….brilliant…Mike Glenn brought us a new set retrieved from Raytheon during shutdown phase
More sealant removed and spraylat removed from wings, center wingbox, fuselage, readjusted LH wingbox flush, and etc.
Everyone keeps eating away at the bird and we get more done as the weeks go by and we are getting close to some good weather and will be able to reinstall the big stuff (wings, tails, and engines)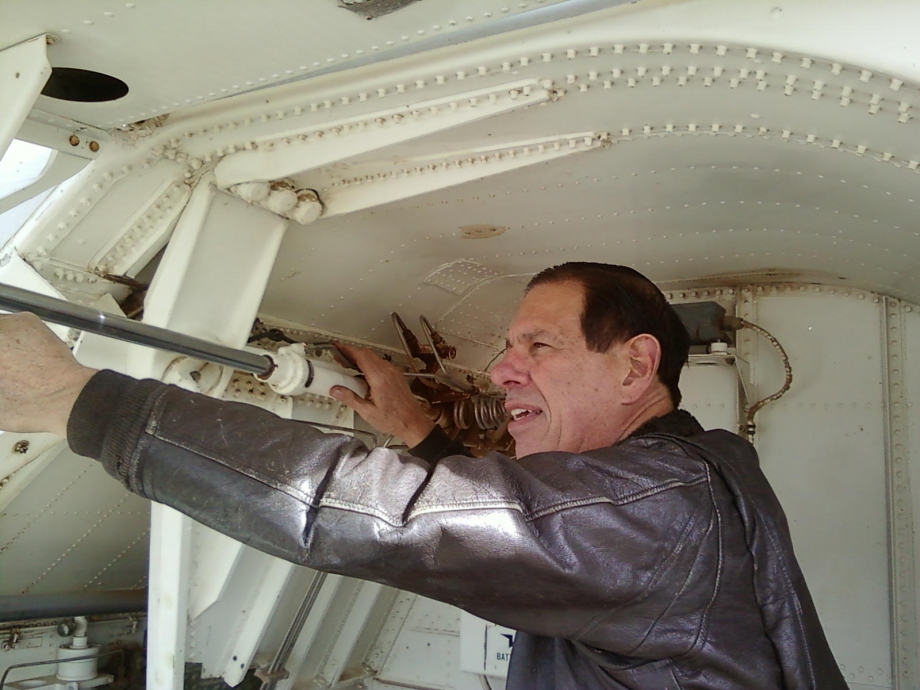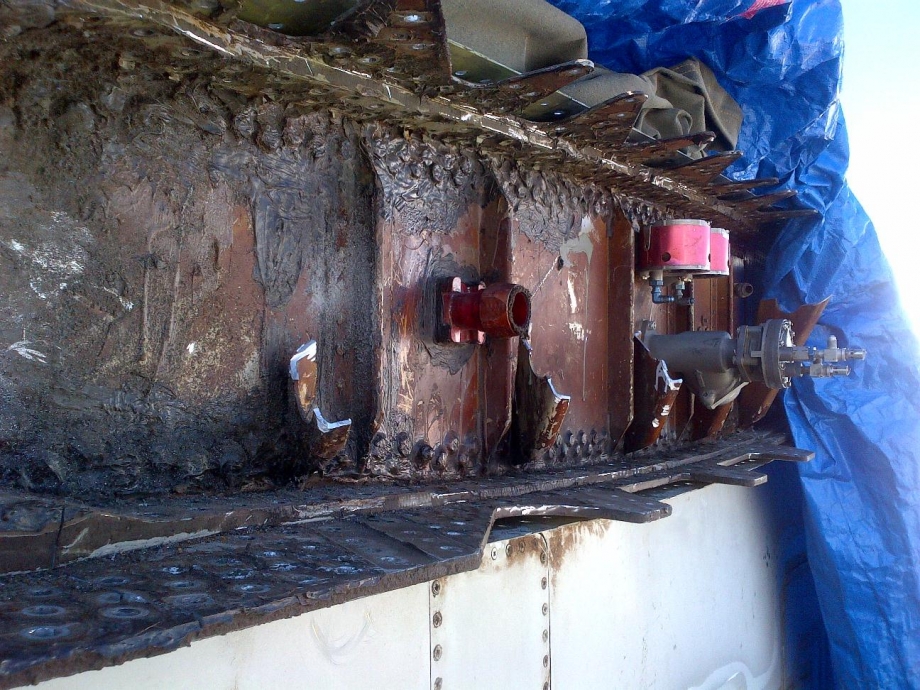 ---

Dec. 8, 2012 Situation Report
Welcome aboard George Harris who is a Benbrook resident and signed up yesterday with the VFM. George was a Crew Chief in VAQ-33 and helped setup the various maintenance trainers that the RAG used down in Key West to train a boat load of A-3 mechanics throughout the years.